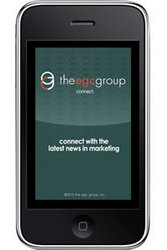 Melville, NY (Vocus) February 25, 2010
The EGC Group has introduced a free iPhone application where users can access updated industry, marketing, advertising and digital news, articles, features, and videos, as well as content feeds from their EGC Twitter accounts.
Want to know the advertising implications of the iPad? Interested in learning the best way to build a website? Want to see the best and the brightest TV spots? Interested in what Google has been up to? It's all available on the EGC App, which is available for download on iTunes.
There are approximately 214 million iPhones and iPods sold, and each have an average of 50 apps. EGC understands the importance of this growing trend, and has built the application as a way for clients, friends, partners and marketers to get up-to-the minute access to the comprehensive marketing blog, Connect, as well as feeds from twitter@egcgroup. In addition to offering The EGC Group app, EGC also offers app development services to clients as well.
To connect with the new EGC iPhone app and learn how to better connect with customers. Visit http://www.itunes.com. To learn more about The EGC Group, visit http://www.egcgroup.com.
About The EGC Group:
The EGC Group is a full service integrated marketing agency based in Melville, New York. It was formed in 1985 and is ranked one of the Top 350 Advertising Agencies in the U.S. by Advertising Age and was recently voted Best Advertising Agency by LI Business News. The company's clients include industry leaders in consumer products, finance, retail, education, hospitality and healthcare. For more information, please visit http://www.egcgroup.com.
###