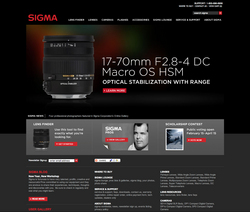 The goal was to make it easy and engaging for both novice and professional photographers to find and view Sigma's products, get detailed product information and locate a dealer to purchase.
Orange, CA (PRWEB) February 25, 2010
Blue Collar Interactive (http://www.bluecollaragency.com), a new full-service interactive advertising agency, today announced the launch of the fully-redesigned website for the Sigma Corporation of America (http://www.sigmaphoto.com), a leading manufacturer of high-quality, high-performance photographic technology at moderate prices, featuring an immersive, customer-centric experience with the Sigma brand and photography products. In addition to a fresh look and intelligent site architecture, some of the new features that Blue Collar introduced include the Sigma Lounge, an interactive community area complete with a photo share gallery and blog, an extensive product finder tool and enhanced functionality for Sigma dealers.
"The goal for the website was to make it easy and engaging for both novice and professional photographers to find and view Sigma's products, get detailed product information and locate a dealer to purchase," said April Donovan, Co-Founder and Creative Director at Blue Collar. "The newly designed website and vibrant online community positions Sigma as the creator of high-quality, high-performance equipment that allows customers to grow their love for photography."
A large departure from the previous version of the Sigma website, the new design includes a slick black back-ground, expressive end-user photography and sexy silhouettes used throughout to present Sigma's photo products as objects of desire, all while creating an online peer community and more interactive relationships with photographers and visitors. Actual photos contributed by amateurs and pros alike are presented alongside products to offer customers a glimpse of what they could create through the use of a particular lens and varying skills. The online experience also highlights Sigma's dedication to customer service and makes product registration easy and convenient.
Part of the website overhaul included the introduction of a Lens Finder Tool, that acts as a concierge to help visitors find exactly what they are looking for. This tool sets a new industry standard by allowing customers of every level of expertise to filter through over 50 lenses from the Sigma product offering, sorting by camera system, camera type, skill level, price point, end use and technology. This interactive tool makes it easy for new-comers to gather and understand product information appropriate to their skill level.
To create an immersive brand experience, Blue Collar introduced the Sigma Lounge, a new community section that reaches their customers one-on-one through unique features such as:

Photo Share Feature – User-submitted photo gallery that allows customers to see what their peers are working on and submit their own work. Each submitted photo is cross-referenced on product detail pages, so customers can see real user—as well as professional—photographs taken with a particular Sigma lens with additional details regarding shutter speed and aperture. This feature provides a creative, collaborative community for Sigma customers that furthers personal and professional growth.
Sigma Pros – Bios and galleries of professional photographers that are using Sigma equipment for their daily work. Each Pro's gallery includes technical data and useful background information about how each picture was taken.
Sigma Blog – Professional blog authored by the Sigma Pros who offer up their expertise through educational tips, tricks and advice to the Sigma customer community.
Social Media Integration – Opportunities throughout the site to share information on any page via social media outlets.
Since Sigma products are sold through distribution channels, it was important that the new web presence feature enhanced functionality for dealers as well as customers. Careful attention was given to the site architecture to seamlessly integrate Channel Intelligence's online sales solutions to track sales and click-through, and support dealers through a seamless shopping experience for the user to easily find out where they can purchase their product or locate an authorized dealer.
"Our new site will bring Sigma customer and dealer experiences to a whole new level," said Mark Amir-Hamzeh, general manager of Sigma Corporation of America. "We're particularly excited about the opportunity to interact with users through the Sigma Lounge and the ease with which customers can now locate gear - and order it from Authorized Sigma Dealers. Blue Collar promised us an innovative and easy-to-navigate site, and they have delivered."
The launch of the Sigma Corporation website marks the first major account win and web development project for Blue Collar Interactive officially as an agency. Backed by over 35 years of collective experience, Blue Collar Interactive was founded in 2010 on the idea that a small group of talented people can ultimately do great work with a smaller budget. Offering a wide range of creative and client services, web development and interactive marketing services, Blue Collar's gritty, hand-shake approach to creative marketing solutions is backed by a dedication to strong business relationships through hard work, brutal honesty, integrity and trust. For more information about Blue Collar Interactive and their suite of services, visit http://www.bluecollaragency.com.
To view the newly launched website or for information on Sigma Corporation of America and its lenses, cameras and flashes, visit http://www.sigmaphoto.com.
# # #