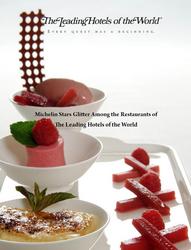 New York, NY (Vocus) February 27, 2010
Among the restaurants in The Leading Hotels of the World, avid diners can find a veritable constellation of Michelin stars. Behind those stars, of course, are creative chefs – each of whom has a story and a style. To whet the appetite, what follows is but a small sampling of the supernovas in the culinary galaxy of Leading Hotels.
Those restaurants that have garnered the coveted three Michelin stars include:
Hotel Windsor Toya in Japan boasts two three-star honorees: Michel Bras Toya Japon and Arashiyama Kitcho. Michel Bras Toya Japon has received three stars for ten consecutive years since 1998. Chef Bras learned food preparation from his mother at family-run auberge and went on to accumulate Gault Millau toques and points, as well as his Michelin stars. One of his classic presentations is gargouille, with 30 herbs and approximately 20 vegetables freshly picked from the surrounding area. A sinfully delightful dessert is his trademarked Chocolate Biscuit Coulant, a cylindrical chocolate cake with a decadently rich filling. The hotel is also justly proud of Arashiyama Kitcho which acquired its three stars in 2009 and offers traditional Japanese kaiseki courses highlighting local seafood, vegetables, wild herbs and dairy products.
At Hotel Le Bristol in Paris, Le Restaurant, which received its first star in 1999 and its third in 2008, is under the guidance Chef Eric Frechon. His goal is to bring back products that he believes were unfairly taken out of the gastronomic vocabulary, but that should be appreciated solely for their simplicity. Throughout the year, he orchestrates menus that highlight seasonal products; for example, Mushroom Month in the autumn or Truffle Month in January. Chef Ferchon began his career at the age of 17, when he joined Jean Sabine's team at La Grande Cascade in Paris. He then trained alongside noteworthy chefs including Emile Tabourdiau at Hotel Le Bristol, and Claude Deligne at Taillevent.
Another legendary bearer of three stars is Le Louis XV – Alain Ducasse at Hotel de Paris in Monte Carlo, where diners are invited on a voyage to the very heart of the Mediterranean region. The menu encompasses numerous combinations of tantalizing aromas and flavors from the South. A classic starter might be Provence garden vegetables cooked with black truffle, Terre Bormane Taggiasche olive oil, and balsamic vinegar. Vegetables from the morning's market are cooked separately, sautéed in olive oil, and deglazed with poultry stock.
Two Leading Hotels that have more than one Michelin-starred venue are Hotel Okura Amsterdam, and Grand Hôtel Stockholm.
Hotel Okura Amsterdam boasts two Michelin-starred restaurants: Ciel Bleu Restaurant and Yamazato. Ciel Bleu Restaurant, with two Michelin stars since 2007, offers a unique take on French cuisine and a breathtaking view over Amsterdam. Under the direction of Chef Onno Kokmeijer, its menu includes signature dishes such as a starter of lightly smoked Anjou pigeon with a crunch of potatoes and diced bacon, Cevennes onion compote served with sauce of hazelnut; a main course of sole fillet covered with white wine sauce, squid, sweet-and-sour leek and lobster tail; and crispy caramel with a pineapple parfait of Piña Colada and marinated seasonal fruit for dessert. Since 2002, Yamazato Restaurant has been the only traditional Japanese restaurant in Europe to hold a Michelin star. More than 50 Japanese specialties are prepared by the skilful hands of Executive Chef Akira Oshima, whose extensive experience includes eight years at the famous restaurant Tsurya in Osaka, Japan.
Another Leading Hotel with two dining venues holding Michelin stars is the Grand Hôtel in Stockholm, where Chef Mathias Dahlgren launched his eponymous restaurant in 2007. Restaurant Mathias Dahlgren offers two different dining experiences which complement each other through the dual concept of Matsalen – The Dining Room, and Matbaren – The Food Bar. Within two years of opening, Mathias Dahlgren Restaurant received its second Michelin star for Matsalen, and one star for Matbaren.
To read more, go to http://www.lhw.com/download_s/314.pdf.
For reservations and information, visit http://www.lhw.com or contact a travel professional.
The Leading Hotels of the World, Ltd. is the prestigious luxury hospitality organization representing more than 450 of the world's finest hotels, resorts and spas, and is the operator of http://www.lhw.com and http://www.lhwspas.com – the online sources for your luxury lifestyle. As the largest international luxury hotel brand, the firm maintains offices in 22 major markets across the globe.
Since 1928, the company's reputation for excellence derives from the exacting levels of quality it demands of its members, each of which must pass a rigorous, anonymous inspection covering hundreds of meticulous criteria spanning from product to behavioral standards. This set of standards is the most stringent in the industry.
# # #