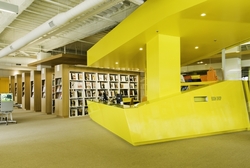 Los Angeles, CA (PRWEB) February 26, 2010
FIDM/Fashion Institute of Design & Merchandising's San Diego campus won first place in the Education category in Contract Magazine's 31st Annual Interior Design Awards Competition.
The interior design of the fashion college is inspired by the colors and shapes of the San Diego desert regions. Unique textures and shapes in bright orange, yellow, green, and beige are prominently featured. "The internal landscape is student-centered, supporting their experience through openness, transparency, and user-friendly spaces for work and recreation," says architect Clive Wilkinson. "Vibrant public spaces contrast with quiet, neutral classrooms and study areas."
FIDM San Diego Director of Education Katherine Slauta says, "The minute you walk through the elevators you can tell this is a design school." There are pops of color everywhere on campus, with the exception of the classrooms, which are pure white. Slauta continues, "It's like students are walking into a blank canvas each class, ready to learn and create something new on their own!"
FIDM San Diego is one of four gorgeous FIDM campuses showcasing Wilkinson's creative genius. Bold use of color and organic shapes are his trademarks—bubble gum pink on the Orange County campus, azure blue in the Design Studio on the Los Angeles campus, and green on the San Francisco campus.
Interior Design Magazine cites Wilkinson as drawing inspiration from writers, musicians, and fashion designers including Rudi Gernreich, Yves Saint Laurent, and Miuccia Prada. "Architecture," Wilkinson says, "is the clothing of space."
Contract Magazine has been in circulation for nearly 50 years as a trade publication for the commercial design business. Education was one of 15 categories in the Interior Design Award Competition, with winners from all over the world in Historic Restoration, Retail, Hotel, Restaurant, Healthcare, Exhibit, Showroom, Spa/Fitness, Sports/Entertainment, Public Space, Adaptive Reuse, Large Office, Small Office, and Environmental.
With four dynamic California campuses, FIDM/Fashion Institute of Design & Merchandising is the premier west coast fashion design school, educating for careers in fashion, graphic design, interior design, and entertainment. FIDM's graduates include renowned fashion designers like Monique Lhuillier, Emmy® and Academy Award® award-winning costume designers, top fashion industry executives, and entrepreneurs.
# # #