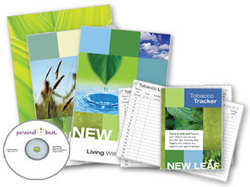 With the beginning of each new year, people often make resolutions. Many of those resolutions involve a healthier lifestyle. And now with the New Leaf Tobacco Cessation User Kit, employers have a convenient resource to encourage their employees to curb tobacco usage that can ultimately lead to fewer health insurance claims, thus impacting an organization's bottom line
Birmingham, AL (PRWEB) February 26, 2010
Birmingham, AL (PRWEB) February 26, 2010 Personal Best®, a leader in employee wellness solutions, announces the release of the New Leaf Tobacco Cessation User Kit in time for resolution season. This kit provides employers with a tool that helps employees curb or even eliminate tobacco usage.
The CDC reports that 70% of smokers want to quit. The New Leaf Tobacco Cessation Program can help companies and their employees reduce tobacco use this year. Using evidence-based success strategies, the New Leaf Tobacco Cessation User Kit provides a step-by-step guide for eliminating tobacco usage among those employees who choose to participate in the program.
"With the beginning of each new year, people often make resolutions. Many of those resolutions involve a healthier lifestyle. And now with the New Leaf Tobacco Cessation User Kit, employers have a convenient resource to encourage their employees to curb tobacco usage that can ultimately lead to fewer health insurance claims, thus impacting an organization's bottom line," said President and Publisher for Personal Best, Bob Amato.
The New Leaf Tobacco Cessation User Kit includes: a step-by-step guideline showing the participant how to quit, endure withdrawals, and techniques for preventing a relapse. Also included are informational resources for the participant's family and friends or anyone that might provide a support system. And a tracker allows the participant to identify temptations that trigger cravings. A CD is also included, which provides relaxation techniques. A separate Administrator's Kit can also be purchased, which provides support materials and information for the employer to successfully launch this wellness initiative.
Personal Best is a major publisher of employee wellness informational materials covering such areas as health and wellness, safety, productivity, shift work and personal money management. Resource materials are available in various electronic and hard copy formats. The company's TopHealth®, Personal Best Healthlines®, and Body Bulletin newsletters reach more than 1 million readers each month at nearly 10,000 organizations. Personal Best is a division of Oakstone Publishing, a medical and wellness communications company that specializes in providing educational materials and resources for healthcare professionals and those organizations interested in encouraging healthy lifestyle choices among their employees. For additional information, visit the Personal Best website.
# # #