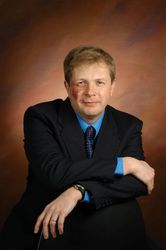 For maximum resilience Senetas' group key management scheme does not rely on an external key server to distribute group keys as this potentially introduces critical impediments to network security- a single point of failure and single point of compromise.
(PRWEB) February 25, 2010
Senetas Corporation Limited (ASX:SEN), Australia's world-leading designer and manufacturer of high speed network encryption, has released a new multicast encryptor (Patent Pending) designed to secure converged networks and protect the "triple play" of voice, video and data.
The Senetas encryptor accredited to Common Criteria EAL4+ (and in the final stages of FIPS 140-2 Level 3 accreditation) secures data in motion from a host to all members of a multicast group at rates from 10Mbps up to 10 Gigabits per second.
Senetas chief technologist, Julian Fay said it was designed to provide the highest level of information security to applications including video conferencing, internet based TV, online gaming and distribution of critical business applications.
Mr Fay said the new encryptor functionality could also be deployed to protect military multicast traffic, as it used the AES256-bit algorithm, approved by the U.S. Government National Security Agency in 2003 to protect classified information up to the 'top secret' level.
The Senetas solution employs an innovative approach to solve the problem of maintaining secrecy in large dynamic groups that requires a group key management infrastructure.
"Senetas has developed an automatic group key management solution which is extremely simple to deploy and allows each encryptor to securely share individual encryption keys with all members of the group".
"The group key management scheme, which is patent pending, is responsible for ensuring group keys are maintained across the visible network and is designed to be secure, dynamic and robust. It is fault tolerant, with an ability to survive network outages and self-healing as it can adapt to topology changes automatically.
"For maximum resilience Senetas' group key management scheme does not rely on an external key server to distribute group keys as this potentially introduces critical impediments to high availability network communications – a single point of failure and a single point of compromise," Mr Fay explained.
About Multicast
Multicast is useful in implementing many network applications that involve communication in groups, such as video conferences, Internet-based Pay TV networks and online games. With an increase in the popularity of such applications, the importance of multicast is also increasing. As the number of users connected to the Internet and company intranets grow, many users frequently want to access the same information (eg. audio and video Web content) at the same time. Using IP multicast techniques to distribute this information can often substantially reduce the overall bandwidth demands on the network. Multicast enables a node in a network to efficiently send a single unit of data to an arbitrary set of recipient nodes. By using multicast, rather than sending separate copies of the data to every target recipient, a node sends one copy of the data and multiple copies of the same are created and transmitted within the network in a manner that conserves overall network bandwidth. Senetas' wire speed encryption technology has been extended to allow these applications to be fully secured at speeds up to 10Gbps.
About Senetas
Senetas Corporation Limited (ASX Code: SEN) is a publicly-listed Australian company with an international sales partner network covering more than 40 countries. As the world's leading developer and supplier of high speed network encryption hardware products since 1997, it is accredited to the highest international government security standards following extensive independent evaluation and product testing. In 2007 Senetas jointly developed the world's first hybrid quantum encryptor and last year Senetas was granted a patent for its multi-protocol CN-1000 family of encryptors. Customers include Government departments, military, law enforcement agencies and financial institutions in the USA, Australia, the Middle East, Asia, and Europe.
ENDS
For further information contact:
Julian Fay, Senetas Corporation Limited, Tel: +61 3 9868 4555, Email: julian.fay at senetas.com
# # #