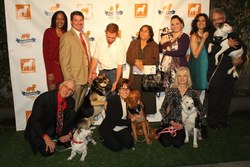 Los Angeles (PRWEB) February 25, 2010
Natural pet food company DOGSWELL is pleased to report that the first ever WAG Awards was a huge success, raising $6,600 to support Four Legged Friends Foundation, a non-profit organization that offers financial support and education for animals and their guardians. The charity event was hosted by actress/comedian Debra Skelton, and honored inspiring animals and rescuers, including Joseph St. Georges of the LA Fire Department who was reunited during the awards with Spikey, the dog he rescued from the Los Angeles River.
"I knew immediately that this was going to be an event to remember, filled with laughter, tears, and most of all celebration," said Marco Giannini, founder and CEO of DOGSWELL. "We always donate what we can to charities, but in creating this event, I believe we did much more. There are so many reasons to give back to our four-legged companions, and through all of the WAG Award submissions, we were able to select a group that highlighted some of the best reasons. After hearing the winners' stories you felt connected to them, and compelled to get involved. The six winners all received an award and year's supply of DOGSWELL food and treats, but the even bigger winners will be all of the animals that will find love and support thanks to the funds raised and the people who took part."
Honorees at the event, which was held on Thursday, February 18, at Les Deux in Hollywood, included:

Joseph St. Georges and the LA Fire Department, who pulled off the daring rescue of Spikey, the dog stranded in the Los Angeles River.
Sweetheart, a small mixed breed dog who survived being lit on fire and now gives back to the community as a Certified Therapy Dog.
Ricochet, a Golden Retriever who uses her unusual talent of surfing to raise funds for charitable causes.
Elle, a Chihuahua who is a true "LA Dog" that loves to suntan.
Jess, who performs with the "Dancing with the Dogs" group at adoption festivals throughout LA.
Daisy, who has conquered all her fears that stem from being blind and deaf.
"We were so delighted to be selected as the charity partner for the DOGSWELL WAG Awards," said Sandra Lollino, Founder and President of Four Legged Friends Foundation. "The funds raised from the event will make a big difference in our operations and allow us to provide more support to animals and people who struggle to afford veterinary care."
"Love was in the air at the WAG Awards, as many of us gathered to celebrate the special relationship we have with canine companions," said event host Debra Skelton. "The awards were in recognition of not only the six winners but also their dedicated and devoted human guardians. It was a joy, honor and blessing to be the first host for the DOGSWELL WAG Awards, and a true reminder of how powerful and loving a society we can be when we give back and stand out as examples."
About DOGSWELL
DOGSWELL® is located in Los Angeles, CA, and was founded by Marco Giannini in 2004. DOGSWELL® and CATSWELL® products are carried in more than 10,000 pet stores and natural food stores nationwide. DOGSWELL® is proud to have donated over a million dollars of food and treats to shelters and rescues. For more information about DOGSWELL® products, please visit http://www.dogswell.com.
About Four Legged Friends Foundation
Four Legged Friends Foundation (FLuFF) is a 501c3 nonprofit corporation that supports animals and people through financial support for those without the means to afford veterinary care, through education about over pet population, and through participation at local community events. http://www.Flff.org
# # #