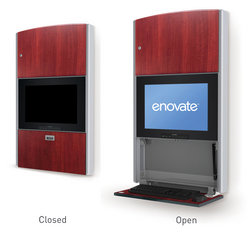 It functions almost intuitively and can electronically adapt to the needs of any operator and operates under the assumption that security is standard in the clinical environment.
Ferndale, MI (PRWEB) February 25, 2010
Enovate, a leading provider of mobile and wall-mounted workstations, is proud to announce the release of the next generation in Computing Wall Stations—the e550. Thinner, lighter and sleeker the e550 is the most forward-thinking and technologically-advanced wall station on the market today.
The e550 wallstation is designed to operate quietly and adjust to the ergonomic height requirements of any user. Its open design allows the keyboard compartment, monitor compartment and CPU compartment to work efficiently within the same space, eliminating the need for mechanical cooling fans and providing optimal space for wire management, yet remaining a sleek 3.5" inches in total depth.
While most computer stations must be manually adjusted, the e550's keyboard tray electronically locks into the open position while Push Button Height Adjustment allows the unit to be raised to a standing height or lowered to a sitting position, giving caregivers additional flexibility, comfort and usability. The wallstations e.sensor detects when the operator has walked away and automatically turns off the monitor and closes and locks the worksurface providing effortless and unparalleled security for both patient and the caregiver.
When the keyboard tray is fully closed it can be unlocked with a simple touch to the keypad or can be programmed to unlock via key code combination at the clinician's discretion. It can also be programmed to remain open for a preset amount of time. "The e550 has raised the bar - there is nothing like it on the market today. It has advanced composite materials that makes it ultra-slim and innovative electronics with breakthrough technology that makes it smart," said Fred Calero, President and Co-Founder. "It functions almost intuitively and can electronically adapt to the needs of any operator and operates under the assumption that security is standard in the clinical environment."
The e550 Computer Wallstation fully complies with all ADA codes for hallway projections and use and also offers a variety of user-friendly features that allow for seamless integration and effortless functionality in busy hospitals and health care centers. Such features include:

An optional LED worksurface light that comes to life by touching the Enovate logo
3 USB ports built in at the top of the keyboard tray compartment for mouse, keyboard and scanner, eliminating the need to run wires to the CPU
A CPU compartment that facilitates up to 2.6" in depth using the standard CPU door and can accommodate the HP DC7900 Ultra Slim Desktop, the Dell Optiplex 160 Tiny Desktop CPU as well as all thin clients
Medication units and a 4" version will be available shortly after initial release
As with all Enovate products, the e550 series is backed by a commitment to exemplary service and support. Enovate will be showcasing its new e550 wallstation as well as many other products at HIMSS10 – booth #2212.
About EnovateIT, LLC
Headquartered in Ferndale, Michigan, EnovateIT is a national provider and manufacturer of mobile and wall mounted clinical workstation solutions for the healthcare environment. EnovateIT provides multiple solutions for medication delivery, computerized physician order entry, clinical documentation, electronic medical records, and language translation products and services.
For more information, please contact EnovateIT at (877)258-8030 or visit http://www.enovateusa.com or http://www.enovateit.com.
# # #