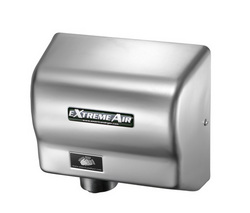 ExtremeAir Hand Dryers are GreenSpec Listed and American Made!
Livonia, MI (PRWEB) February 25, 2010
ExtremeAirHandDryers.com features the eXtremeAir Hand Dryer. The Extreme Air is a powerful, blazing fast, high speed automatic hand dryer for commercial restrooms. This hand dryer dries hands completely in just 10 seconds while using 80% less energy than most other hand dryers.
ExtremeAirHandDryers.com is proud to offer American made high quality hand dryers by American Dryer. The Extreme Air hand dryer is very unique for a eco-friendly product. The ExtremeAir is literally small enough to fit inside most other hand dryers with its unique compact design.
American Dryer has been manufacturing quality hand dryers for over 55 years. The American Dryer line of maintenance-free electric hand dryers save customers 95% of paper towel costs while protecting the environment. All of these commercial hand dryers are backed by a same day factory service and up to a 10-year warranty.
The Discovery Channel aired a program "Building a Sustainable Future" hosted by Louis Gosset, Jr. featuring the ExtremeAir hand dryer. The Extreme Air hand dryer was featured because it's 3X faster than conventional restroom hand dryers while using 80% less energy. It also reduces landfill waste associated with paper towels.
For more information about hand dryers at ExtremeAirHandDryers.com, visit today. Contact us if you'd like to hear more about this amazing electric hand dryer or have a demo sent to your facility.
Contact:
Anthony DiCicco, President
Category Five Technologies, Inc.
888-50-DRYER
ExtremeAirHandDryers.com
###