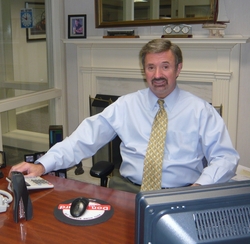 If you're a first-time homebuyer, your awareness and decision-making about your homeowners insurance are limited by experience. You're not familiar with the jargon, the policy.... Even veteran homeowners will remain detached when not engaged.
Wilmington, NC (PRWEB) February 26, 2010
Insurance veteran Don Bullard says new homeowners might be smart about one-time tax credits but are less savvy about home insurance discounts, which can reduce home insurance rates 15-30% -- year after year. Moreover, statistics show that those who could benefit the most from home insurance savings aren't always aware that discounts exist.
Smart homeowners looking for savings this year may have netted the $8,000 tax credit. But they're not nearly as wise to discounts that could cut their home insurance rates--this year and next. And those discounts are surviving even the toughest of times, despite rising across the insurance industry.
Unfortunately, homeowners living on the tightest of budgets could benefit the most from insurance discounts but they aren't maximizing potential savings, and many of these homeowners aren't aware that discounts exist, says one home insurance expert. In fact, a recent survey found that "nearly 38% of respondents with a household income of less than $25,000 said they weren't taking advantage of all possible homeowners discounts or said they didn't know" that discounts can be used to reduce their overall home and car insurance costs.
The 2009 national survey, reported by industry association Trusted Choice, also found that 53 million household respondents "admitted they are probably not taking advantage of all homeowners insurance discounts or said that they simply didn't know" about policyholder discounts they likely qualify for.
While nickels and dimes make good cents for homeowners, the survey numbers just don't make sense to Don Bullard, a home insurance agent who heads an independent firm in Wilmington, NC. As an industry veteran of nearly 40 years, he's familiar with the range of discounts available -- even for coastal policyholders whose rates have leaped. He says discounts can reduce insurance rates 15 to 30 percent.
So why aren't homeowners taking advantage of home insurance savings?
"You don't know what you don't know," Bullard says. "There's a lot that homeowners don't know about their homeowner policies, whether they're first-time homeowners in a starter home…or your neighbor who bought his beachfront luxury home 10 years ago."
Shopping for insurance takes time and awareness. It should start with a policy review and explore home insurance competitor options and potential discounts. The process isn't just time-intensive--it's confusing to many policyholders, especially those inexperienced or who explore without guidance.
"If you're a first-time homebuyer, your awareness and decision-making about your homeowners insurance are limited by experience," the agent says. "You're not familiar with the jargon, the policy, the extent of your coverage or even how much that policy actually costs. Likewise, you probably believe that home insurance rates are standard; you may not be aware of industry competition ... of the discounts that result from that competition," Bullard says.
"Chances are, you don't know that the same criteria used to qualify your home for a specific mortgage is often the same criteria that qualifies your policy for discounts such as new wiring, smoke alarms … even your credit score and marital status can net lower rates with discounts."
New homeowners are usually detached from their insurance policy -- moreso when costs are billed and paid from mortgage escrow funds, which are folded into monthly mortgage payments. "Escrow is a convenience that makes it easy to budget and collect expenses such as taxes and insurance -- the same convenience makes it seemingly more difficult for homeowners to opt-in on decision-making, change and control. They're detached from the process and the bills. Their billing and payment experiences are different--the learning curve is longer, and different. They don't benefit from the more immediate lessons learned by homeowners who shop for coverage and pay their premiums directly.
"This seems especially true of today's homeowners qualifying for the $8,000 tax credit--that's been my experience," he adds. "Most are using mortgage escrow for homeowners insurance, leading to misperception: many believe their mortgage company controls insurance. It's not true."
Consequently, rate increases and policy changes affect this group of consumer differently. When home insurance climbs, monthly payments increase in step. But this consumer may not even be aware of what that increase costs annually, Bullard says -- it's less painful when budgeted incrementally over time.
"I've found that most new homeowner policyholders see insurance through the same lens as the mortgage. Then they continue to see this way--for years. The mindset isn't always the result of inexperience in terms of how long someone has owned a house. Even veteran homeowners will remain detached when they're not engaged."
Buying the home and buying home insurance are lateral processes. It's common for lenders and realtors to recommend insurance providers at purchase. As a result, new homeowners may not even realize that they drive selection, and can change providers if they choose.
Among this consumer, rate increases just don't create the same knee-jerk reaction that it does among homeowners who pay insurance premiums directly--and separately from mortgage. When their premiums jump, they shop rates and compare policies or more often, ask independent insurance agents to do the shopping for them.
"Just because your mortgage company manages your premium payments, it doesn't mean they manage choice," Bullard says. "Seasoned homeowners realize they can still enjoy the convenience of escrow budgeting and enjoy savings leveraged through industry competition and discounts, too.
The experienced, savvy or seasoned buyer is also more inclined to maximize discounts, Bullard says, a peer experience which offers the lessons learned for the inexperiences to 'save.'
About Don Bullard Insurance
Founded and headquartered in Wilmington, North Carolina, Don Bullard Insurance is an independent insurance agency, serving the auto, home, life and health insurance needs of residents, businesses and commercial interests across the Cape Fear Region. As an independent agency, the company is a member of the Independent Agents Association and Trusted Choice, adhering to Trusted Choice quality standards of practice and ethics. The agency has an A+ rating with the Better Business Bureau(BBB.org) With a staff of qualified and accredited agents offering more than 100 years of collective knowledge, the firm represents a credentialed range of providers including Hartford, Progressive, GMAC, Fidelity National, Universal Property and Casualty, Philadelphia, The Bankers Group, American Modern Insurance and QBE among others.
For more information on home insurance, discounts and related industry trends, contact:
Don Bullard, President
Don Bullard Insurance, http://www.donbullard.com
Find our Google profile and map.
4709 Oleander Dr., Wilmington, NC
Tel: 910.791.5400
don.bullard (at) donbullardins (dot) com
###