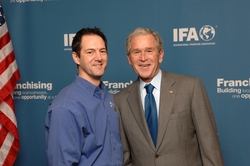 Scottsdale, AZ (PRWEB) February 26, 2010
Upside Group Franchise Consulting was proud to be a sponsor of this year's International Franchise Association's 50th Annual Convention at the San Antonio Convention Center and Marriott Rivercenter in San Antonio, Texas. This year's franchise convention added something special to its consistently dynamic programming, celebrating the past 50 years by looking back at franchising and highlighting some of the important work the International Franchise Association has achieved on behalf of its franchise members.
Starting the first day and continuing throughout the event, educational sessions with presentations from franchise industry leaders and roundtable discussions on relevant topics filled the days. Each day was also highlighted by a general session headlined by a franchise veteran widely known throughout the franchise industry. This year's franchise convention was officially opened at a general session featuring a keynote address by former U.S. President George W. Bush.
Prior to this key note address, Mario Altiery, President of Upside Group Franchise Consulting, was one of the dignitaries invited to a special private reception as a major contributor to FranPAC for President Bush. During Mr. Altiery's private time with the President they discussed baseball and franchising. Following the private VIP FranPAC reception, President Bush gave his speech, filled with humor and insight, to the 2,200 International Franchise Association members in attendance on the key elements of being an effective leader, important lessons learned from his dealings with world leaders and his fond memories of eight years living in the White House.
The remaining days of the franchise convention concentrated on presentations and discussions revolving around the important issues facing the franchising industry today and in the future. Some examples of popular topics covered during the franchise convention included finding franchisee funding with the current tight credit market, growing your franchise system in today's economy and building your franchise through global expansion.
For the past 50 years, franchising has emerged as a driving force of the U.S. economy. Virtually every industry has seen franchising positively affect its growth through new business ownership, expanding customer markets and job creation. This year's 50th Annual International Franchise Association convention confirmed that franchising will have an equally positive affect on the next 50 years of business.
###