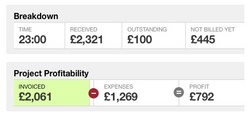 "Not all projects are profitable. Unseen expenses can quickly erode the fee agreed." - Ed Molyneux, FreeAgent Central CEO
(PRWEB) February 26, 2010
FreeAgent users can now maximise the profitability of all their projects using a new feature released today by the award-winning online accounting service.
Ed Molyneux, FreeAgent's CEO, explains: "Not all projects are profitable. Unseen expenses like travel, administration or subscriptions can quickly erode the fee agreed. And so the team here at FreeAgent Central have developed a clever little tool that gives users a clear and up to the minute picture of a project's profitability."
By linking bills, bank account entries and expenses to projects, users can keep track of expenses incurred during a project, without necessarily adding them to an invoice. Additionally, they can add a mark-up to rebilled expenses and invoices, as a percentage or a final amount.
While this makes invoicing even easier, more importantly FreeAgent users can now measure bottom line profitability. And this is critical for freelancers and small businesses when it comes to deciding what kind of work to take on.
The main project screen has been redesigned to give a better overview of key project data and shows a simple profitability calculation. This is calculated as net total invoiced minus expenses equals profit. And as payments are made against the invoice, the invoiced amount box fills up with a green graphic, so if a project has 50% payment then this will be half-full.
Molyneux continues: "This is very much a first step in giving users a better understanding of project profitability. The next step will be introducing 'time' into the equation allowing them to track active projected profitability on a timeslip basis."
All small businesses need to be in control of their finances, particularly in tough times. You can't run a business without knowing the numbers. FreeAgent online software is easy to use and gives a clear picture of profit and loss, making financial decisions easier to make. This makes running a business easier.
As freelancers themselves, the three founders of FreeAgent Central needed a finance tool that would give them a clear picture of their business accounts. That product did not exist and so FreeAgent was born.
The software has a clean and simple design, highly intuitive and usable. It will prepare VAT returns, calculate self assessed income tax and corporation tax and manage PAYE and NI. Users can monitor profit and loss, send and track invoices, track time and expenses, manage projects and payments.
FreeAgent also encourages collaboration between accountant and client by allowing accountants to login to the system, so they can offer the most up-to-date advice. Accountants can easily export trial balance data to generate end-of-year accounts.
An active online community of FreeAgent customers has grown up where users openly discuss ideas, questions and problems about accounts. Additionally there is a live advice helpline where users can 'Ask an Expert' about financial issues they may be having. FreeAgent is accessible around the clock, which is ideal for the way many small business owners and freelancers work.
FreeAgent is subscription based with costs starting at £15 per month for a sole trader, £20 for a partnership and £25 for a limited company.
About FreeAgent Central
FreeAgent Central is an independent software company pioneering online accounting for the small business and freelance market. Launched in 2007, the company is run by founders Ed Molyneux, Olly Headey and Roan Lavery and won the prize for Best Newcomer at the 2009 SIFT Media Software Satisfaction awards.
FreeAgent is simple but powerful online accounting and invoicing software. The innovative service quickly attracted a devoted following of users and has grown rapidly since launch, currently with 2000 subscribers and this figure growing every month. In a recent poll of FreeAgent Central users, 99.5% of people said they would recommend the software to others.
The company works in partnership with many of the UK's largest accounting practices, specialising in freelancers, to offer the service to their clients. Focused first on the UK, the company plans to launch in Europe before going Stateside within the next three years.
As freelancers themselves, the three founders of FreeAgent Central needed a finance tool that would give them a clear picture of their business accounts. That product did not exist and so FreeAgent was born.
###