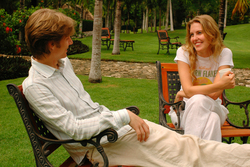 Cayo District, Belize (Vocus) February 26, 2010
The Lodge at Chaa Creek, Belize's award-winning luxury eco-lodge in the jungles of Central America, is offering free 5 day all inclusive Honeymoon Vacation Packages to the lucky winners of the Belize Honeymoon Vacation Sweepstakes.
Wedged between Mexico and Guatemala on the Yucatan's Caribbean coast, English speaking Belize is a melting pot of cultures creating a unique blend of vibrant people living in a land of endless beauty. This tiny country, steeped in Maya history and surrounded by nature's bounty, is only a few hours' flight away from most major North American cities.
The Lodge at Chaa Creek is offering the opportunity to explore the best that Belize has to offer by celebrating a unique honeymoon vacation in one of Chaa Creek's luxurious suites and villas surrounded by lush tropical gardens in the foothills of ancient Maya Mountains. Enjoy a bottle of fine champagne in a private Jacuzzi, share a candlelit dinner under the huge thatched canopy of a well appointed dining room, engage in numerous adventurous activities within the 365-acre private reserve , and relax with a personalized assortment of professional treatments at a hill top Spa.
Whether dreaming of a romantic honeymoon vacation getaway, renewing your vows, or celebrating your anniversary, this unique honeymoon vacation package is guaranteed to create memories of something rich and timeless!
To enter the Belize Honeymoon Vacation Sweepstakes, an essay (minimum of 300 words) must be written explaining why you would want to celebrate your honeymoon in Belize and at The Lodge at Chaa Creek. The essay must be submitted via email to marketing(at)chaacreek(dot)com and will be published anonymously on the Chaa Creek Travel Blog.
Upon receiving the essay, the Chaa Creek Team will send a link to access a short list of questions about Belize and Chaa Creek. All of the answers to the questions can be found on the Chaa Creek website at http://www.chaacreek.com. A minimum score of 85% must be attained in order to be entered into the final sweepstake drawing.
The Belize Honeymoon Vacation Sweepstakes closes on May 1st 2010. All qualified entries will be placed in the drawing barrel and the winning tickets for the five prizes will be drawn by the children of St Andrews Primary School and monitored by the Board of Directors of Chaa Creek Limited in the Cayo District of Belize.
Winning vacation packages accommodate two persons and are inclusive of cottage accommodation, food, transfers, tours and activities, and spa treatments.
Belize Honeymoon Vacation Package or Maya Wellness Rainforest Vacation Package

A Four Night/Five package for two
A 50% discounted Four Night package for two
A 40% discounted Four Night package for two
A 30% discounted Four Night package for two
For more information about the Belize Honeymoon Vacation, contact the property at 877-709-8708, marketing(at)chaacreek(dot)com or visit the web site at http://www.chaacreek.com.
Disclaimer: Please note that vacation prizes are good for one year, non-transferable, and cannot be used for existing reservations.
###