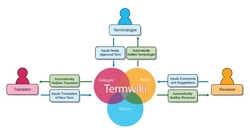 TermWiki is being released as a commercial open source application, consistent with the localization industry's growing inclination toward community-driven or cloud-based workflow models
Beijing, China (PRWEB) February 25, 2010
CSOFT International Ltd., a leading provider of multilingual localization, testing, and customized software development for the global market, announced today the international release of TermWiki, the localization industry's first collaborative and wiki-based multilingual terminology management system. To sign-up for a free trial of TermWiki, please visit: http://www.csoftintl.com/termwiki.php.
"Effective terminology management is an essential step toward achieving linguistic consistency across a wide array of business documents, which in turn leads to better customer satisfaction, improved product quality, uniform branding, and reduced support costs for all organizations doing business in the global market," explained Uwe Muegge, Director of CSOFT's MedL10N division, who is currently a member of the U.S. delegation to ISO on terminology.
Designed to optimize the development and management of multilingual corporate content, TermWiki greatly improves upon the basic functionalities of traditional terminology management systems. From its real-time, wiki-based collaboration model, to its structured review and approval processes, as well as compliance with relevant ISO terminology standards, TermWiki delivers an unparalleled, user-friendly solution that will assist businesses in streamlining their approach to international product releases. Recognized by market research firm Common Sense Advisory as a software solution that has the potential to "lower the barrier to terminology management," TermWiki is now available worldwide under a commercial open source software license.
"The most fundamental element of linguistic consistency is—and always has been—disciplined terminology management, a process that seamlessly integrates terminological consistency into all stages of product development," continued Muegge. "However, taking a proactive approach to terminology management has always been a challenge for businesses, as the process involves collaboration between many departments in different locations to create, translate, review, approve, and enforce the use of appropriate terminology. TermWiki solves this challenge by enabling terminologists, tech writers, translators, reviewers and product managers alike to simultaneously take control of their own assigned tasks within an open collaborative environment."
TermWiki simplifies the traditional approach to terminology management into three practical steps: collaborate, develop, and control. Each step is supported with specific, productivity-oriented features that facilitate the successful ongoing maintenance of multilingual corporate lexicons.
The standard version of TermWiki comes equipped with the following key functionalities: enhanced, Google-like search functions; version control options that automatically trace and organize all revisions; fully customizable notification features; data categories that facilitate compliance with ISO standards regarding best practices in terminology management; simplified terminological data display and exchange formats for more efficient integration with existing translation memory systems; term-specific dispute resolution modules; image, and rich media support; and detailed control over user profiles, enabling administrators to control which users have access to what content.
"Most notably, TermWiki is being released as a commercial open source application, consistent with the localization industry's growing inclination toward community-driven or cloud-based workflow models," commented Shunee Yee, CSOFT president and CEO, who recently won the Stevie Award for Best Female Entrepreneur in Asia. "Similar to the TAUS Data Association's goal of stimulating industry innovation through openly sharing parallel data and applications, CSOFT is offering its users full access to the software's source code. In combination with the highly adaptable structure of TermWiki's development platform, CSOFT's transparent approach to technological innovation will invite needs-based, performance-inspired customizations developed by a variety of different users. Companies will never again be locked down by proprietary technology that they can't change or control; an extremely open architecture gives people room to modify TermWiki to suit their own business needs. We are very excited to witness how TermWiki will evolve through the collective expertise of the community."
For more information about CSOFT and TermWiki, please visit: http://www.csoftintl.com. Media inquiries should be directed to elena.mccoy (at) csoftintl (dot) com or +1.415.462.5674.
About CSOFT
CSOFT International Ltd., is a leading provider of multilingual localization, testing and outsourced software development for the worldwide market. Powered by our expert in-country linguistic resources, CSOFT delivers language translation/technology solutions into 90+ languages. CSOFT services a variety of industries such as information technology, manufacturing, life sciences, financial services, chemical and energy. Using industry best practices and processes, CSOFT streamlines translation and localization for software, product manuals, online help, marketing collaterals and website content, and offers multilingual publishing for virtually all formats.
###