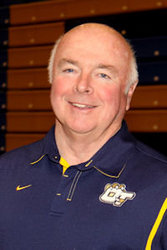 In coaching circles, he has been identified as one of the games most astute and progressive basketball thinkers.
Klamath Falls, OR (PRWEB) February 26, 2010
With a win over College of Idaho on Wednesday night, Oregon Tech head basketball coach Danny Miles became the third winningest coach in college basketball history, eclipsing such hoops luminaries as Bob Knight, Dean Smith, Adolph Rupp and Mike Krzyzewski. His team won the Cascade Conference title with a 15-3 record, earning the automatic berth to the 2010 NAIA National Tournament and finished the regulars season with an overall record of 26-4. Miles also led his 2009-10 squad to a school-record 36-straight home victories, spanning the past two seasons.
In his 39th season as head coach of the Oregon Tech Hustlin' Owls, Miles has now accumulated 903 wins and two national championships over the course of his career. He has won more than 75% of his games, and has been named National Coach of the Year twice.
Even though Miles has spent his career at a small, NAIA school in the Pacific Northwest, he has become recognized globally. In coaching circles, he has been identified as one of the games most astute and progressive basketball thinkers, and is regularly sought out for his success in winning games and developing players.
Miles is often noted in the media for not only his winning success, but also for his longevity in a profession not usually associated with that. In an understated, but deliberate manner, Miles has guided his team from the Oregon Institute of Technology, situated in Klamath Falls, OR and with a student enrollment of under 4,000, longer than many head coaches have been alive. "I've known Danny for a long time," said Roger Kaiser, formerly the head coach at University of West Georgia, and at Life College in Marietta, GA. "First off, he's a gentleman, but he's also a fierce competitor and he coaches his teams to never back down from a fight. He has an incredible knowledge of the game and gets the most out of his players. He's the kind of person I'd want my own son to play for."
Leading a team using only 4 athletic scholarships, (Oregon Tech is unique in this regard – most NAIA Division 2 schools are allowed 6 scholarships for basketball – NAIA Division 1 has up to 11 scholarships) Miles is well-known for how he develops players and creates effective teams. One of the keys to his success is his unique philosophy and system of coaching and evaluating players, something he calls the Value Point System (VPS). The mathematical, data-driven system has revolutionized high school, college and professional basketball programs in the Unites States and Europe.
Miles has recently teamed with the leading basketball instructional site on the Web, Breakthrough Basketball, to share his Value Point System in a new book and DVD that has just been released. Titled, "Danny Miles: Value Point System & Daily Drills", he is giving coaches and players of all levels insight into how to improve both individual performance and team results.
As part of Miles' relationship with Breakthrough Basketball, a community of interested followers has formed around his success and VPS. Those who are interested can find out more about the concepts of VPS, learn from other coaches, and keep informed on news about Danny Miles through a Facebook page and Twitter.
Danny Miles Accomplishments

903 career wins at the college level
3rd most wins of any coach in the history of college basketball
Winning 77.6% of their games over the last 13 years (355-102)
2-time Division II National Champions
Led Oregon Tech to the national tournament 15 times
Most tournament win of any team in NAIA Division II
2-time National Coach of the Year
4-time Conference All-Sport Coach
9-time Conference Coach of the Year
2-time Northwest Coach of the Year
A.T. Slats Gill All-Sports Coach of the Year
Inducted into the NAIA Hall of Fame
Inducted into the Oregon Sports Hall of Fame
Contacts:
Breakthrough Basketball, LLC
Jeff Haefner
(866) 846-7892
Oregon Institute of Technology Media
Tom Loney
541-885-1632
# # #