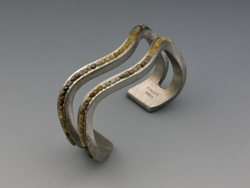 Santa Fe, NM (PRWEB) February 26, 2010
Native Modern: Contemporary Native Art and Design Exhibit Series is a new collaborative project between Legends Santa Fe and Southwestern Association for Indian Arts (SWAIA). The series of exhibits will debut a new show every month at Legends Santa Fe from April to October 2010. SWAIA and Legends Santa Fe will seek distinctive and previously untested ways of bringing Native artists together from across cultures, media and themes. The shows, like Indian Market, will be at once traditional and brimming with innovative ideas. The result will be the presentation of Native art unlike anything else in Santa Fe.
The Native Modern debut show, "Precious Metal" will showcase contemporary jewelry designs from the world's most acclaimed Native American jewelry designers including Pat Pruitt, Michael Roanhorse, Robin Waynee, Cody Sanderson and Fritz Casuse. Each of these artists represents a nuanced worldview with rich and profound tethers to their respective backgrounds but produce exquisite modern jewelry that blow apart reductive definitions of Native art. "Precious Metal" exemplifies the contemporary ethos in Native design and the underlying spirit of the Native Modern series.
If 2009's Santa Fe Indian Market wasn't a clear indication of new things to come the Native Modern exhibition series at Legends Santa Fe is a sure exclamation point on SWAIA's burgeoning Renaissance. Throughout this year and beyond, SWAIA will introduce new yearlong programs designed to reshape, if not destroy, perceptions and misconceptions about Native art and Native people. SWAIA's signature program, the Santa Fe Indian Market, will remain the central focus for the organization. Nevertheless, Indian Market will become part of a vast and exciting new landscape in SWAIA's bold future.
Who: Legends Santa Fe and the Southwestern Association for Indian Arts (SWAIA)
What: Native Modern: Contemporary Native Art and Design Exhibit Series Debut
Where: Legends Santa Fe Gallery: 143 Lincoln Ave. Santa Fe, NM (505) 983-5639
When: Friday, April 2, 2010 5 p.m. to 7 p.m.
How Much: Free
2010 Native Modern Series Schedule
Against the Grain: Mixed Media
May 7
Paper and Glass: Photography, Glass
June 4
Earth, Wind, and Fire: Pottery
July 2
One + One = Two: Collaboration
August 6
Ahead of the Curve: Santa Fe Indian Market
September 3
Changing the Face: Celebrated Female Native Artists
October 1
###