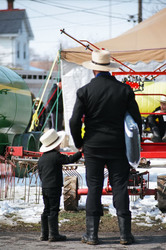 "Mud sales are a great chance to experience a unique Lancaster tradition side-by-side with the local Amish community."
Lancaster, Pa. (PRWEB) February 26, 2010
Roll up those pant legs, pull on some boots, and head out to one of Lancaster County's famous mud sales in 2010. Enjoy a day of great buys with the local Amish community -- interweaving family, food, and fun -- all for the benefit of area fire companies.
Thousands of Amish and "English" flock each year to the heart of PA Dutch Country for these traditional events on Saturdays from mid-February to early April, so named for the condition of the thawing ground. Both intimate and authentic, mud sales are perfect for browsing, bidding, and buying, as out-of-towners mix easily with locals and soak in Lancaster's renowned hospitality and heritage.
What's more, it's hard to believe the value and variety of what's on offer -- hand-stitched quilts (donated by Amish women's groups), hammers, buggies, sleigh bells, milk bottles, toys, farm equipment, livestock, produce, furniture, and even antique lightning rods!
To ward off the last of winter's chill, the fire companies' ladies auxiliaries provide sustenance in the form of Pennsylvania Dutch culinary favorites like steaming chicken corn soup, funnel cakes, pot pie, birch beer, chicken barbecue, and lots of hot cider and coffee.
And the best values are snapped up by those who get there early. With start times of 8 or 8:30 a.m., why not make it easy by staying over the night before and waking up in Lancaster County!
Inviting and never dull, this annual rite of spring is a can't-miss event, so plan to make some great deals and wonderful memories at Lancaster's 2010 mud sales.
Lancaster County is a wonderful blend of urban style and rural splendor, and the PA Dutch Convention & Visitors Bureau is dedicated to promoting its many rich cultures, from the Amish to the arts. Travelers can take in our vibrant downtown city life -- featuring galleries, great dining, specialty shops, and live music -- or explore some of the surrounding towns and villages to get a sampling of the heritage, food, craftsmanship, and hands-on activities for which Lancaster is famous.
###