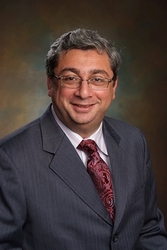 Dr. Samaha's extensive knowledge of medical practice and healthcare system operations, business development, and information systems will provide leadership and insight that will be invaluable to MDAdvisor
Berkeley Heights, NJ (Vocus) February 27, 2010
Simon J. Samaha, MD, President and CEO of Summit Medical Group (http://www.summitmedicalgroup.com), has been appointed to the Editorial Board of MDAdvisor: A Journal for the New Jersey Medical Community (http://www.MDAdvantageonline.com/MDAdvisor).
MDAdvisor is a peer-reviewed medical journal published by MDAdvantage that provides important, up-to-date medical information to New Jersey physicians, hospital CEOs, and other practitioners licensed to practice in the state, as well as public health professionals and others who have an interest in New Jersey healthcare. MDAdvantage Insurance Company of New Jersey is a leading provider of medical professional liability insurance in New Jersey.
Dr. Samaha is the President and Chief Executive Officer of Summit Medical Group, New Jersey's largest independently-operated, multispecialty medical practice. Prior to joining Summit Medical Group, Dr. Samaha served as Senior Executive Vice President and Chief Medical Officer at Cooper University Hospital in Camden. Dr. Samaha is a member of the New Jersey Health Information Technology Commission.
"Dr. Samaha's extensive knowledge of medical practice and healthcare system operations, business development, and information systems will provide leadership and insight that will be invaluable to MDAdvisor," said Patricia A. Costante, Chairman and CEO of MDAdvantage Insurance Company of New Jersey.
Editor-in-Chief Henry H. Sherk, MD, stated, "The Editorial Board is committed to supporting and educating the New Jersey medical community. The addition of Dr. Samaha will complement the varied and accomplished backgrounds of our other members."
About Summit Medical Group:
Summit Medical Group pioneered information technology advances in healthcare with its early adoption of electronic health records and e-prescribing. With over 150 highly qualified physicians, it is one of the most unique healthcare models in the state. The Group has been named as one of the "Fifty Fastest Growing Companies" in the state by NJBiz Magazine and has a national award-winning customer service program. SMG treats over 55,000 patients per month at its main campus in Berkeley Heights, and area satellites in Berkeley Heights, Morristown, Shorts Hills, Summit, Warren, and Westfield. Summit Medical Group plays a major role in the American Medical Group Association (AMGA) along with the Mayo Clinic, the Lahey Clinic and the Geisinger Clinic. As one of the premier multi-specialty groups on the East Coast, Summit Medical Group has provided exceptional primary and specialty care since 1929. For more information, visit http://www.summitmedicalgroup.com.
###