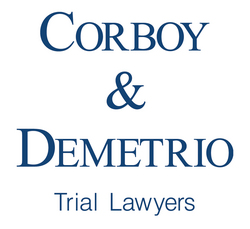 Chicago, IL (Vocus) February 26, 2010
After 17 years and two Illinois Supreme Court opinions, the Chicago Board of Education and the Chicago Youth Centers finally agreed to settle, on the day trial was scheduled to begin, a personal injury case filed on behalf of a student for $14,675,000.00 in front of Judge William D. Maddux, Presiding Judge of the Law Division of the Circuit Court of Cook County. The student was represented by attorneys Thomas Demetrio and Susan Schwartz, partners at the Chicago personal injury law firm, Corboy & Demetrio.
On December 14, 1992, Ryan Murray, then 13 and an eighth grade student at Bryn Mawr School (now known as Bouchet Academy), in Chicago, Illinois, broke his neck and was rendered a quadriplegic when he struck his head performing a flip, while using a mini trampoline. Murray was injured during an extracurricular tumbling class, held during his lunch period, in the main gymnasium of his elementary school. The mini trampoline was owned by the Board of Education and stored in a locked closet. The tumbling class was conducted by James Collins, an employee of Chicago Youth Centers.
Demetrio and Schwartz, Murray's attorneys, were prepared to present evidence that school districts all over the country had banned trampolines 10 to 15 years before Murray was injured and that the Board of Education should never have recently purchased the mini trampoline or permitted its use.
According to Demetrio, "The utter indifference of the Board of Education for the safety of Ryan Murray in allowing the use of a mini trampoline in this class, would have been absolutely clear. The class was supervised by a Chicago Youth Centers instructor who was not certified and did not have the qualifications to teach trampolining. Trained spotters and safety equipment, including appropriate landing mats and safety harnesses, were not provided, nor were any safety guidelines required by the United States Gymnastics Federation and set forth in their Safety Manual followed."
The lawsuit had a complicated and protracted judicial procedural history. Visit Corboy & Demetrio's News section to learn more.
Murray v. Chicago Youth Center, James Collins and Chicago Board of Education, 2007 L 3832.
About Corboy & Demetrio
The Chicago personal injury law firm of Corboy & Demetrio is one of the nation's premier law firms. It represents individuals and their families in serious personal injury and wrongful death cases and has acquired more than $3 billion in settlements and verdicts on behalf of its clients.
###