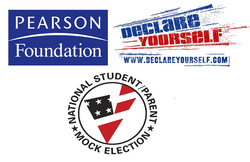 Miami educators have demonstrated a strong commitment to help students learn and get excited about American history
Miami, FL (PRWEB) February 25, 2010
A surviving print of the Declaration of Independence will be unveiled in Miami on Friday to help school children get the history lesson of a lifetime.
Hundreds of students from the Miami-Dade County Public Schools will get front row access to an original print of the U.S. Declaration of Independence on tour with support from the Pearson Foundation, the philanthropic arm of Pearson, which is the leading provider of instructional materials in the classroom.
The Pearson Foundation is helping host school children and local leaders, including M-DCPS Superintendent Alberto Carvalho, to an exclusive viewing of the historical document Friday, Feb. 26 from 8:45 a.m. to 11 a.m. The document will be on display at Miami Palmetto Senior High School, located at 7460 SW 118 St., Pinecrest, 33156. The school will stream the activities live online at http://www.palmettostream.com.
"This is a wonderful opportunity for our students to experience a piece of American history, a piece that continues to play a vital role in our everyday lives," said Superintendent Carvalho. "Miami is home to many of us who have come to know and love the American spirit that this living document embodies."
The proclamation of independence from the British Empire was handwritten primarily by Thomas Jefferson in 1776. Upon approval by the Second Continental Congress, 200 prints were produced by John Dunlap in his Philadelphia print shop. These rare, original prints were specifically created to be read aloud throughout the 13 American colonies. Hundreds of elementary, middle and high school students from across M-DCPS will get a close-up view of the only original print that tours the country at Miami Palmetto Senior High School.
"Miami educators have demonstrated a strong commitment to help students learn and get excited about American history," said Debra Kerr, Pearson regional manager. "We're privileged to help the Miami-Dade County Public Schools give students and their families front-row access to an original print of the Declaration of Independence--a rare chronicle of the nation's birth."
The historical document, often referred to as America's birth certificate, is cared for with the highest security during its travels, with its own armed guards and climate-controlled case. To help preserve it, humidity is kept between 45 and 50 percent, temperatures are maintained between 67 and 72 degrees Fahrenheit, and it is exposed to no direct sunlight or flash photography. At least two law-enforcement officials stand guard to protect the document at all times.
The Declaration will be on display for the general public Saturday, Feb. 27 at the Miami-Dade Pinecrest Branch Library from 9:30 a.m. to 1 p.m. The Pinecrest library is located at 5835 SW 111 St., Pinecrest, 33156.
The Pearson Foundation, along with Declare Yourself and the National Parent/Student Mock Election, is presenting the only traveling print of the Declaration of Independence to help young Americans learn about the democratic process just days before the primary elections. Last fall, millions of students and parents participated in mock elections at their schools. The tour is recognizing top participants by bringing an original surviving print of the Declaration of Independence to schools and communities.
The Pearson Foundation Declaration of Independence Tour is visiting six cities across the country to honor schools, which include Andrew Carnegie Middle School (Carson, CA); Curie Metropolitan High School (Chicago); the Dade County School system (FL); Austin Independent School District (TX); and the schools in the states of Arizona and New Jersey. Miami is the fourth visit on the six-city tour.
The Declaration print to be featured was discovered in 1989 in the back of a picture frame purchased at a flea market and was later sold to Norman Lear, television producer and founder of Declare Yourself, in 2000 for $8.1 million.
More information about the Declaration of Independence tour can be found at http://www.pearsonschool.com/live/customer_central/landingpage/doitour/index.html.
About the Pearson Foundation:
The Pearson Foundation extends Pearson's commitment to education by partnering with leading nonprofit, civic, and business organizations to provide financial, organizational, and publishing assistance across the globe. The Foundation aims to make a difference by sponsoring innovative educational programs and extending its educational expertise to help in classrooms and in local communities. For more information, visit http://www.pearsonfoundation.org.
About Pearson and Florida:
Pearson (NYSE:PSO) has been providing learning materials and services to Florida schools for more than 100 years. As the world's leading education and technology company, you may know us individually as Scott Foresman, Prentice Hall, Longman, SuccessMaker, NovaNET, PowerSchool, SuccessNet, and so many more - names in the world of education that are recognized and respected across the state and the globe. We provide education and testing materials from birth through professional learning as well as the complex management systems that maintain student information data for thousands of schools. Our Pearson people are living and working in every school district across the state, and visiting teachers, principals and curriculum directors every single day. In fact, most teachers in Florida have learned their profession by studying with Pearson's Merrill or Allyn & Bacon textbooks, and many have benefited from our professional development programs. Like Florida's educators, we are unwavering in our commitment to our children, and committed to creating innovative educational solutions customized to align with Florida's standards for 21st century learning. For more information, visit http://www.pearsonschool.com or http://www.pearsonfoundation.org.
Media Contact:
Adriana Villarreal
Drive West Communications
713.459.3495
adriana (at) drivewestcommunications (dot) com
###