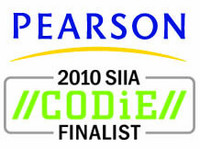 New York (PRWEB) February 26, 2010
Thirteen is a lucky number for Pearson. With 13 education finalists in the 2010 Software & Information Association (SIIA) CODiE Awards, the education, technology and services company leads the prestigious competition. Pearson's innovative ed-tech solutions for schools, colleges and universities are recognized across the awards program's education categories, honoring the company's worldwide leadership in harnessing technology to personalize and improve learning.
Established in 1986, the CODiE Awards celebrate outstanding achievement across the software, digital information and education technology industries. Nominated products underwent an intensive review by subject matter experts, analysts, journalists and others with deep expertise in education technology. Pearson's 13 finalists were chosen from more than 327 education nominations submitted by 124 companies.
The company's products moving on to the next round of competition in the CODiE Awards are CourseConnect™, eCollege, Mastering Platform, MathXL® for School, Miller & Levine Biology™ Digital Path, MyCourse, MyMathLab, MyWritingLab, myWorld Geography™, Prentice Hall Literature Online (PHLitOnline) and PowerSchool.

CourseConnect, a finalist in the Best Postsecondary Course or Learning Management Solution category, offers college and university faculty a library of customizable online courses with recommended course descriptions, syllabi, lessons containing rich media, graphics and interactivities, discussion questions and assessment banks.
Pearson eCollege, now known as Pearson LearningStudio, is a next-generation learning environment and platform that delivers course and program enrichment, measurable academic performance, and better student and faculty engagement. This highly reliable Software as a Service (SaaS) solution is completely customizable and flexible, improving the teaching and learning experience for millions of learners enrolled in the most successful online and on-ground programs around the world. Pearson eCollege, now known as Pearson LearningStudio, is a finalist in the Best Course Management Solution category.
Mastering Platform, a finalist in the Best Science Solution category, offers college and university students an online tutorial system, which directs their learning with hints and automated wrong-answer feedback. Mastering's valuable assessment feedback also helps science faculty identify students' knowledge gaps, leading to more effective and efficient instruction. A spectrum of educational research conducted using the Mastering platform has appeared in peer-reviewed journals on education.
MathXL for School, a powerful Web-based program that offers homework, tutorial and assessment tools for math, is correlated to more than 300 of Pearson's secondary and higher education textbooks and is flexible enough to be used with any high school program. MathXL for School is a finalist in the Best Mathematics Instructional Solution category.
Miller & Levine Biology Digital Path, from the nation's bestselling high school biology program, takes a bold approach to science instruction, combining the power of new technology with a proven foundation of academic success. The program is a finalist in the Best Science Instructional Solution category.
MyCourse integrates MyLab and CourseConnect to provide colleges and universities with powerful formative assessment tools, personalized learning and a wealth of multimedia resources embedded in a comprehensive online learning curriculum. MyCourse is a finalist in the Best Postsecondary Instructional Solution category.
MyMathLab, a finalist in both the Best Postsecondary Instructional Solution and Best Mathematics Instructional Solution categories, is the most widely used and efficacy-proven set of online math courses, providing college students with a personalized interactive learning environment, where they can learn at their own pace and gain immediate feedback and help.
MyWritingLab, a finalist in the Best Education Solution category, changes lives by improving writing skills for students who need it most. Students' critical-thinking abilities progress as they master the skills and concepts they need to become successful writers. More importantly, MyWritingLab provides authentic assessment and incremental success, motivating students and increasing their confidence to continue with college.
myWorld Geography, a finalist in both the Best Social Studies and Best Education Community Solution categories, is a digital environment where students in grades K-8 can develop a deeper understanding of the world by making personal connections to the people and places about which they are learning.
Prentice Hall Literature Online (PHLitOnline), a finalist in the Best Reading/English Instructional Solution category, is a revolutionary digital, personalized learning environment for middle and high school students that simplifies planning, assessing and reporting.
PowerSchool is the fastest growing, most widely used student information system. PowerSchool enables today's educators to make timely decisions that impact student performance, while creating a collaborative environment for parents, teachers and students to work together in preparing 21st century learners for the future. PowerSchool 6 is a finalist in the Best K-12 Enterprise Solution category.
Pearson's finalists will now be voted on by the entire SIIA membership to determine the winners in each category. The 2010 CODiE Awards will be announced at the 2010 Ed Tech Industry Summit in San Francisco on May 24.
About Pearson
Pearson (NYSE:PSO), the global leader in education services, education technology and school solutions, provides innovative print and digital education materials for preK through college, student information systems and learning management systems, teacher professional development, career certification programs, and testing and assessment products that set the standard for the industry. Pearson's other primary businesses include the Financial Times Group and the Penguin Group. For more information, go to http://www.pearsoned.com.
For more information, press only:
Lisa Wolfe, L. Wolfe Communications, 773-227-1049
###