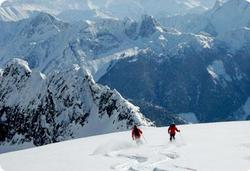 Banff, Alberta (Vocus) February 26, 2010
Helicopter skiing in British Columbia just got more accessible with high season Pay-As-You Play heli-ski programs. Due to high demand, additional Pay-As-You-Play spaces in high-season have recently opened up at the remote backcountry Gothics Lodge, March 13 – 18, 2010, for a 5-day, over-the-top, heli-ski powder experience.
Heli-skiers are a committed group, with snow quality being of paramount importance. Pay-As-You Play trips allow skiers to mitigate the risk of snow conditions and maintain a budget, by allowing skiers to pay only for the skiing they choose to do. As much or as little as they want, and as conditions permit. The initial trip cost of only $4,190 CAD covers ground transfers to the lodge from Calgary, Canada, accommodation, meals and services, with skiers being charged only on the actual vertical they choose to ski. Trips come with no guaranteed footage, with skiers being charged at a rate of $145 CAD per 1,000 vertical meters skied (3,280 vertical feet). Because it is all about the skiing, these meters are calculated on the amount the skier travels down the mountain, not the vertical lift of the helicopter.
For heli-skiers who crave a guaranteed amount of powder, this same 5-day trip in the Gothics, March 13 – 18, 2010, offers the option of purchasing a Signature CMH experience for only $7,350 CAD with a guarantee of achieving 21,780 vertical meters (71,000 feet) of glorious skiing. Additional skiing beyond the guarantee is charge at $105 CAD per 1,000 vertical meters (3,280 vertical feet).
Heli-Skiing in the Gothics can be fast and furious. With just three groups of skiers sharing one Bell 212 helicopter, dedicated IFMGA and ACMG certified guides lead guests safely to some of the most coveted secret powder stashes in the Monashee and Selkirk Ranges of British Columbia.
Trips include ground transportation from Calgary, Canada; daily heli-skiing with IFMGA or ACMG certified guides; private lodge accommodation; gourmet meals, freshly prepared snacks, and non-alcoholic beverages; use of specially designed powder skis and poles; training in and use of avalanche transceivers.
For more information and to book, please go to http://www.CanadianMountainHolidays.com or call 1-800-661-0252.
About Canadian Mountain Holidays (CMH Heli-Skiing):
Offering heli-skiing since 1965, Canadian Mountain Holidays is the oldest and largest heli-skiing and heli-hiking operator in the world. From their head office in Banff, Alberta, CMH operates helicopter adventures from 12 different areas located in the Bugaboo, Purcell, Selkirk, Kootenay, Monashee, and Cariboo ranges of British Columbia, Canada. Helicopter skiing takes place from December through April. Summer adventures including hiking, walking, mountaineering, and via ferrata adventures take place from July into early September.
Sarah Pearson
Canadian Mountain Holidays (CMH Heli- Skiing)
403-762-7100 or 1-800-661-0252
###