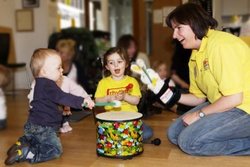 I was thrilled to win this award. There has been a lot of hard work getting the business franchise to where it is now and it has all been well worth it.
(PRWeb UK) February 28, 2010
Rhythm Time Franchisee, Lynne O'Malley has won the award for the fastest growing business franchise at the company's annual awards held in the Midlands.
The award recognises the fastest business franchise growth over a two year period and takes into account how many children were attending classes at the start of the two year period and how many were attending classes at the end of the two years.
Lynne who has been running the Yorkshire franchise since September 2006 adds: "I was thrilled to win this award. There has been a lot of hard work getting the business franchise to where it is now and it has all been well worth it."
"My husband came back from a franchise exhibition with a Rhythm Time franchise pack in 2005. I had no idea that this sort of activity was available for babies – having not had children, babies were in a different world from mine!"
"However, I am passionate about music teaching, especially in the early years and I couldn't believe what I was reading! The whole concept was fantastic and I knew straight away that this was for me."
In addition to Lynne's fastest growth in her weekly classes, she also teaches in local nurseries and children's centres.
Adds Lynne: "Running this business franchise is extremely fulfilling. I enjoy teaching and to see the reactions of children and parents alike is wonderful. It is very rewarding to see the children's confidence grow, as well as their music skills, during their time at Rhythm Time."
Rhythm Time is a set of unique music courses specially written for different age groups. The programme was written by Kathy who is a graduate of the Royal Scottish Academy of Music.
Each course helps with development and learning, starting with stimulating baby classes leading on to exciting toddler and pre-school sessions.
Rhythm Time operates in nearly 200 different premises throughout the UK, helping more than 10,000 children weekly to enjoy the benefits of coming to a quality music class.
Music classes for babies are fantastic fun and can begin as early as six weeks old. In the classes babies are stimulated visually, aurally and physically and music is vital in helping both sides of a baby's brain to develop.
At around 15 months children progress onto the toddler classes which are cleverly written to help a child's confidence, creativity and co-ordination grow –the three c's.
Founder and Director of Rhythm Time Kathy Doolan said "Lynne has made a tremendous start with her Rhythm Time business franchise. We look forward to watching her continued growth over the coming years with many thousands of happy children."
If you are looking for a business franchise opportunity and would like more information about Rhythm Time franchise opportunities, please contact Kathy Doolan, founder and director or Tracy Evans, marketing adviser, 0121 711 4224, http://www.rhythmtime.net.
Information For Editors
Rhythm Time
76 Beechwood Park Road
Solihull
B91 1ES
Telephone: 07813 831516 / 0121 711 4224
Email: rhythmtimemarketing(at)googlemail(dot)com
Rhythm Time was started in Solihull in 1995 by Kathy Doolan. After a very successful five years, Kathy decided to franchise the business in 2000.
Rhythm Time now has franchises all over the UK, operating in 181 areas with approximately 10,000 children attending classes.
Rhythm Time offers three age-appropriate classes for babies (birth to 15 months), toddlers (15 months to three years) and pre-school (three to school age).
Children come to Rhythm Time as tiny babies and progress to toddler and pre-school classes, enjoying a wonderful introduction to music.
All the courses have been created by Kathy, who trained at the Royal Scottish Academy of Music & Drama in Glasgow.
Kathy previously was head of music in a Scottish school and shares with all franchisees and teachers a real passion and belief in the importance of music during a child's formative years.
Kathy is a strong believer that singing unaccompanied helps to develop a child's speech and language from an early age and this forms a key element in all the classes.
###