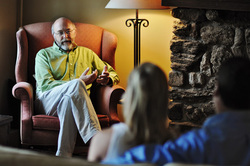 We have been fortunate to be an integral part of the great state of Connecticut for the past 12 years, and we have been privileged to serve not only the citizens of Connecticut, but the citizens of the country and the world.
Canaan, CT (PRWEB) February 26, 2010
On the eve of its twelfth anniversary, Connecticut Governor M. Jodi Rell honored Mountainside Addiction Treatment Center in Canaan with a proclamation declaring February 26th Mountainside Treatment Day throughout the state.
"We are honored to receive such recognition from the governor," said Terence R. Dougherty, Chief Executive Officer of Mountainside. "We are especially grateful that the governor set aside a special day to honor Mountainside. We have been fortunate to be an integral part of the great state of Connecticut for the past 12 years, and we have been privileged to serve not only the citizens of Connecticut, but the citizens of the country and the world. We look forward to the years ahead of providing the same quality and innovative addiction treatment for which we are recognized."
Guided by a commitment to provide the highest quality care to the many people suffering from addiction, Mountainside set a new course in addiction treatment. At a time when the treatment industry was providing standardized treatment, Mountainside pioneered the combination of evidenced-based treatment practices with a holistic / mind-body-spirit approach and, within a ten year period of time, what initially began at Mountainside and was first seen as exotic, has now been recognized as effective and has been replicated throughout the drug rehab industry throughout the United States and overseas.
An invitation by the White House in 2005 to meet with the Drug Czar, John Walters, brought Mountainside into the national spotlight. Drug Czar Walters wanted to know how Mountainside was capable of providing so much to so many for so little. The Mountainside executives at the meeting told him that the foundation of its innovative programming was having the best and most qualified treatment team providing the program that was built on a philosophical core of compassion and the belief in an individualized treatment approach for each individual. Each client's treatment is enhanced and strongly complimented by this professional and compassionate staff and by our serene surroundings. By incorporating the natural and expansive surroundings into its daily treatment offerings, Mountainside offers its clients new ways to connect and focus on the issues that they need to address and guides them in using the necessary treatment tools to build strong and long lasting recoveries.
A hallmark to the many successes of its program is the serene and relaxed environment in which the treatment is delivered. A little over twelve years ago the founders selected the idyllic site based on their knowledge that showed a direct linkage between the environment in which someone receives their treatment and the likelihood of a successful outcome. Located in the foothills of the Berkshires in Litchfield County, Connecticut, Mountainside offers a secluded, serene and beautiful environment for its clients. Mountainside is approximately 100 miles north of New York City and 100 mile south-west of Boston; in addition to clients coming from the tri-state area, many come from around the country and overseas. This is because of the reputation of the treatment program.
About Mountainside Addiction Treatment Center:
Mountainside is a comprehensive and innovative provider of treatment for individuals suffering from drug addiction and alcoholism. Mountainside's licensed and certified counselors, social workers and clinical treatment team and staff are dedicated to providing an unsurpassed treatment experience to its clients. With diverse areas of expertise, the treatment team works collaboratively with each client and their family to ensure that an individualized treatment plan is designed that will treat not just the symptoms, but the whole individual. With professionalism and compassion, each client is guided through every stage of recovery and encouraged to participate in a wide variety of evidence-based and cutting-edge innovative treatment options.
In addition to its licensed and credentialed counselors, social workers and clinical staff, Mountainside's medical services include our Advanced Nurse Practitioner and Registered Nurse, both with specialization in drug addiction and alcoholism treatment. Psychiatric services are available when needed.
If you or someone you love is in need of treatment, or if you have questions, please contact us at: 800-762-5433
###