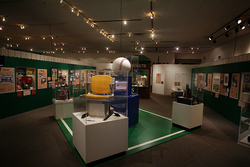 "The Play Ball exhibition is phenomenal in that it combines historical memorabilia with fun, interactive displays that will appeal to all ages," said Cactus League President Robert Brinton.
Mesa, AZ (PRWEB) February 28, 2010
Spring training travelers flocking to Arizona have a new baseball attraction to add to their itinerary. Play Ball! The Cactus League Experience is now open in Mesa, Ariz. at the Arizona Museum for Youth. The 2,000-square-foot exhibit chronicles the 100 year history of major league baseball spring training in Arizona from the barnstorming days before statehood to the inauguration of the Cactus League in 1947 to the present day, with 15 teams playing the 2010 spring training season.
Arizona has a rich history to share and incredible stories to tell baseball fans young and old. Ty Cobb once soothed his old spring training aches and pains at the Buckhorn Baths mineral spas in Mesa. Willie Mays was the first to hit a homer at Phoenix Municipal Stadium. And Mickey Mantle and Joe DiMaggio played one season of spring training baseball together in Arizona.
"The Play Ball exhibition is phenomenal in that it combines historical memorabilia with fun, interactive displays that will appeal to all ages," Cactus League President Robert Brinton said. "It pays tribute to the pioneer days of the Cactus League while focusing on today's accomplishments."
Guests at the museum can participate in a cell phone talking tour of the exhibition; engage in touch screen kiosks for added historical content; construct a three-dimensional puzzle to build their own stadium and enjoy videotape and film montages featuring Cactus League stadiums, legendary baseball announcer Harry Caray, vintage film montages of players dating back to the 1950s and more. Also on display, is an entertainment gaming center featuring Nintendo Wii stations with simulated versions of baseball . Children can also participate in the interactive displays including a locker room with replica vintage baseball uniforms for dress-up and make your own pennant stations.
The expanded exhibition also features numerous donated items including a uniform from the early 1900s, a rare autographed Ernie Banks little league bat, and signed memorabilia from former Cactus League stars including Reggie Jackson, Mark Grace, Gaylord Perry and Bob Feller. On display is the original massage table and weight scale from Arizona's Buckhorn Mineral Baths used for player conditioning in the early days of spring training and an installation describing the story of how former Arizona Governor Rose Mofford saved Cactus League baseball for the state in the late 1980s.
Baseball fans and history buffs alike will have the opportunity to set their sights on never-before-seen items gathered from private collections of Arizonans who knew the likes of Ted Williams, Ernie Banks, Reggie Jackson, Bob Feller and Willie McCovey.
Play Ball! The Cactus League Experience will be on display at Arizona Museum for Youth Tuesdays through Sundays. Museum hours are 10 a.m. to 4 p.m. Tuesday through Saturday and noon to 4 p.m. on Sunday. Admission is $6.50 for one year and older and is free for museum members and children under one-year-old. For more information, click on http://www.playballexperience.com or http://www.arizonamuseumforyouth.com.
MEDIA CONTACT:
Michelle Streeter, Director of Public Relations
Mesa Convention & Visitors Bureau; Direct: 480-682-3638 Toll-free: 800-283-6372 x345
# # #