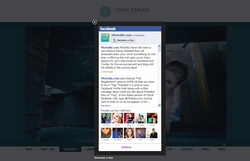 The power of this tool is the ability to keep website visitors on your site as long as possible
Greensboro, NC (PRWEB) February 28, 2010
The "Smart Light Box" opens to display right on top of a website; users can view their selected web content as if they have not left the site, and they can still see the photographer's moving photo transitions in an opaque view throughout the background.
PhotoBiz customers can bring absolutely any external website link, video, blog, contact form, social network, slideshow, Facebook, Twitter, Chat or Studio Management system or anything else imaginable which is published online, into their "Smart Light Box" which appears directly on top of their website. This feature is available under ANY menu item with PhotoBiz Flash and/or HTML website templates. The power of this tool is the ability to keep website visitors on your site as long as possible, and so they can easily navigate all your content, chat, message, Blog, Network, all about you . There are virtually unlimited options available with the new PhotoBiz "Smart Light Box".
The "Smart Light Box" is a customizable feature. There is an opaque faded background that goes over the website. Couple that with a very sleek border that surrounds the embedded content, giving all content an elegant frame. All of the colors that can be seen on this embedded page are completely customizable with our PhotoBiz enhanced color picker.
A roll-over caption feature is enabled on each embedded content page so that the PhotoBiz customer can give a little bit more information to their viewers. Colors and fonts choices come in abundance.
The customers are given complete control over the size of this "Smart Light Box". By simply inserting the size they would like their work to appear in, the "Smart Light Box" will automatically be centered over their website. Since viewers will all have different monitor sizes, our "Smart Light Box" will adjust to any monitor size and maintain the light box as centered. The customer can choose to control background music from their website, without interfering with the Light Box content.
As a PhotoBiz customer; there are no upgrade fees or hassles to add this feature. PhotoBiz is the only website template company that is truly cloud computing, this feature is already enabled in our web based drag and drop control panel and ready to use.
For more information about PhotoBiz.com, or to get started using the new "Smart Light Box", visit us at PhotoBiz.com.
###