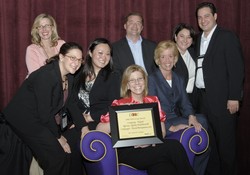 Florham Park, NJ (PRWEB) February 28, 2010
DTC Perspectives, Inc., the leading conference, training and publishing company for direct-to-consumer (DTC) marketing, today announced the finalists for the 10th annual DTC National Advertising Awards, to be held April 8, in conjunction with the DTC National Conference, April 7-9, in Washington D.C. The award winners will be announced at the DTC National Advertising Awards Dinner, sponsored by HealthGrades, on the night of April 8, at the J.W. Marriott Hotel in Washington.
Leading pharmaceutical companies and brands will be honored at the awards dinner which will showcase the best DTC marketing and advertising campaigns with Gold, Silver, and Bronze awards across eight categories. Among the brands with multiple "finalist" designations are Advair & Treximet, GlaxoSmithKline; Seroquel XR, AstraZeneca; Pristiq, Pfizer and Vyvanse, Shire. For a complete list of award finalists, please visit the 2010 DTC Advertising Awards Website.
For the categories of "Branded TV" and "Branded Print," 10 finalists will be presented to the delegates at the 2010 DTC National Conference. Winners in those two categories will be chosen by interactive voting during the Conference. "Delegates attending the DTC National Conference will determine the winners for both the Best Branded TV and Best Branded Print campaign awards," announced Bob Ehrlich, CEO of DTC Perspectives.
DTC Perspectives' editorial staff and independent expert judging panels determined award winners for the other eight categories. This year's independent expert judging panel included: Fariba Zamaniyan, SVP, Nielsen IAG; Fred Church, Vice President, Ipsos Vantis; Frank Chipman, Vice President, Millward Brown; Mark Einhorn, Vice President, Advertising and Packaging Research, MVRG; Marc Jaffe, Sr. Account Service Executive, VMS.
The DTC National Conference is designed to provide DTC marketers with an opportunity to learn from industry thought leaders and discuss the latest innovations in DTC marketing. Over the three-day conference, the more than 550 attendees will benefit from case studies, new market research, media & marketing gurus and networking opportunities. Attendance is recommended for all industry members, including pharmaceutical brand team members, agency executives, media buyers and planners, market researchers, media partners and solution providers. For conference registration, please visit our Website, http://www.DTCperspectives.com or call Debra Sander at (973) 377-2106 ex 221.
DTC Perspectives, Inc. is the leading conference, training and publishing company specializing in the analysis of direct-to-consumer (DTC) pharmaceutical product marketing. It is our goal to serve as the premier information exchange forum for DTC marketing thought leaders with the publication of DTC Perspectives magazine as well as through attendance at our respected Conference Series.
###