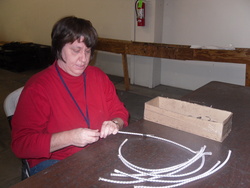 "We wanted to work with the Michael Dunn Center because of its fine reputation in the community and its mission to gainfully employ individuals with developmental disabilities."
Pittsburgh, PA (PRWEB) February 28, 2010
MHF Services (MHF), a leading provider of packaging, transportation, logistics and technical services, has awarded a contract for the assembly of bungee cords to the Michael Dunn Center located in Kingston, TN. The Michael Dunn Center provides opportunities and support for adults and children with developmental disabilities.
MHF, which has a regional office in Oak Ridge, TN, is fabricating the custom liners for the project locally at its manufacturing facility in Sweetwater, TN. The bungee cords are being used to secure MHF liners for a major environmental remediation project
Because of the significant quantity of bungee cords required for this project, MHF sought to outsource the assembly. According to MHF Vice President, Director of Sales & Marketing Scott Dempsey, "We wanted to work with the Michael Dunn Center because of its fine reputation in the community and its mission to gainfully employ individuals with developmental disabilities."
The Michael Dunn Center currently serves more than 300 children and adults with a variety of programs, including work programs.
Mike McElhinney, Michael Dunn Center President and CEO, said "We are pleased MHF Services is using one of the high quality products the individuals we serve produce on such an important project."
###