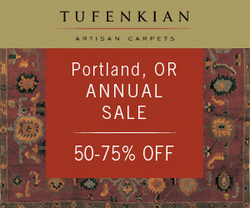 Save 50-75%. Register ONLINE to save 10% more.
Portland, OR (PRWEB) February 28, 2010
Tufenkian Artisan Carpets, the designer of the world's premiere handmade Tibetan and Armenian rugs, will be holding it's Annual Showroom Sale this March in Portland's famed Pearl District. Recognized as among the best values in the market with their unparalleled handmade character, premium materials and timeless design, sale designs will include a broad selection of designer rugs by Barbara Barry, Clodagh, Laura Kirar, Mark Pollack, Kevin Walz and Vicente Wolf plus a sampling from the Tibetan and Armenian collections. These designs will be available to the public at savings of 50-75%. Shoppers will find a range of exquisite designs to enhance any living environment.
In addition to these incredible savings, customers will also have the satisfaction of supporting Tufenkian's award-winning worker welfare and humanitarian projects with very purchase. The Portland Showroom will open it's doors to the public from Friday, March 5th through Sunday, March 14th. 
As with all Tufenkian designs, sale rugs are made with Tufenkian's time-honored processes—including producing its yarn and rugs by hand—ensuring that each finished product is a distinct work of unparalleled beauty and enduring quality. For over two decades, Tufenkian has redefined the traditional handmade carpet industry by bringing a modern aesthetic together with an ancient craft.
Portland Showroom/Tufenkian Archive
Pearl District (NM 10th & Glisan Avenue)
515 NW 10th Avenue
Portland, OR 97209
503.222.3428
Extended Showroom Hours:
Monday-Wednesday 8:30aom-6pm
Thursday-Friday 8:30am-8pm
Saturday 10am-5pm
Sunday 12pm-5pm
--
Katie Dodd
Marketing/Public Relations Specialist
Tufenkian Artisan Carpets
919 Third Avenue
New York, NY 10022
212.475.2475 ext 316
###