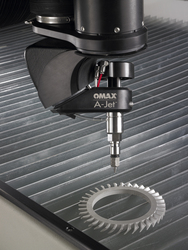 Kent, WA (PRWEB) February 28, 2010
OMAX recently introduced its new A-Jet™, short for articulated jet. The A-Jet cuts accurate beveled edges at angles determined by the machine operator or by the part program, and is capable of a positioning accuracy of ± 0.09 degrees (± 6 arc minutes), making the accessory the most accurate articulated cutting jet of its kind in the industry.
The A-Jet features a compact design for operation in tight cutting areas, as well as water, abrasive, and electrical lines that go through hollow harmonic actuators to provide a neat package without external lines. The actuators are located well above the work surface to allow underwater cutting.
Programming for the A-Jet is largely automatic. Using OMAX's proprietary Intelli-MAX® software, operators are able to choose the angle for part edges that require beveling, with cornering then handled automatically by the machine controller - a feature not readily available in CNC programming software. Operators also have a choice of piercing vertically to minimize splashing.
The A-Jet adds two motion axes that allow tilting the nozzle over a range of 0° to 60° from the vertical position. The new component can be used to easily produce beveled edges or cut countersunk holes. The A-Jet can also cut parts with complex geometries. The accessory features a fixed focal point design, where the XYZ axes need not be moved as the head tilts.
With its additional axes of motion, the A-Jet allows production of beveled edges in preparation for welding operations. Through use of this accessory, many secondary machining and grinding operations can be eliminated.
Another significant aspect of the A-Jet is its large bore plumbing, which features 3/8 inch tubing with minimal pressure loss that allows for the use of high horsepower at the cutting nozzle. The A-Jet is supplied with the MAXJET®5i, a long-life diamond integrated nozzle.
About OMAX
Headquartered in Kent, Washington, OMAX Corporation is the world leader in precision abrasive waterjet systems. Each OMAX JetMachining® system is powered by the company's innovative control software, bringing affordable abrasivejet technology to an expanding and diverse group of industries. For more information on OMAX products and accessories, contact Sandra McLain at 800.838.0343 or visit http://www.omax.com.
###