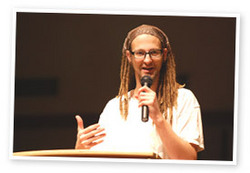 Becoming the Answer to Our Prayers
Newberg, Ore. (Vocus) February 27, 2010
Speaker and author Shane Claiborne will return to George Fox University's Newberg campus to speak three times on Monday, March 8.
Claiborne will speak in chapel at 10:40 a.m. in Bauman Auditorium and speak again that afternoon from 4:40 to 5:35 p.m., when he presents on the topic "Counter Culture: Christians for a New Monasticism" at the university's Liberal Arts in Critical Issues lecture in Room 105 of the university's Hoover Academic Building. The LACI lectures this spring are focusing on Christianity and how it relates to American popular culture.
Finally, Claiborne will speak Monday from 9 to 10 p.m. in Bauman Auditorium. Admission to all events is free, and the public is invited.
Claiborne is the author of several books, including "Jesus for President," "Becoming the Answer to Our Prayers" and "The Irresistible Revolution," which he coauthored with Dr. John Perkins. He is also featured in the DVD series "Another World is Possible."
A prominent Christian activist, Claiborne travels extensively speaking about peacemaking, social justice and Jesus. He is the founder of The Simple Way, a monastic community in Philadelphia.
Claiborne has worked alongside Mother Theresa and spent several weeks in Baghdad with the Iraq Peace Team, of which he is a member. He is also a board member for the Christian Community Development Association, founded by John Perkins and Wayne Gordon.
His visit marks a return to George Fox: In February 2009, he was the featured speaker at the university's annual Kaleo conference, designed to provide training and support for those who are involved in youth ministry.
George Fox University is ranked by Forbes as one of the top 100 colleges in the country and highest among Christian colleges. George Fox is the only Christian university in the Pacific Northwest classified by U.S. News & World Report as a national university. More than 3,300 students attend classes on the university's campus in Newberg, Ore., and at teaching centers in Portland, Salem, and Redmond, Ore., and Boise, Idaho. George Fox offers bachelor's degrees in more than 40 majors, degree-completion programs for working adults, five seminary degrees, and 12 master's and doctoral degrees.
Contact:
Sarah Baldwin
Campus Pastor
George Fox University
503-554-2321
###