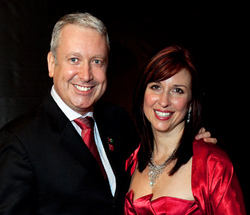 "Our goal is to help 100 people make over a million dollars per year within three years."
Dallas, TX (PRWEB) February 27, 2010
EvolvHealth LLC http://EvolvHealth.com announced today the addition of Garrett and Sylvia McGrath, top earners in the network marketing industry and founders of Team Inspirit http://TeamInspirit.com, a leading network marketing and leadership training organization. The McGraths are well-known mentors and coaches in the network marketing industry, having built organizations of more than 25,000 people in 14 countries and having hosted over 1,000 consecutive daily live training broadcasts.
"We are delighted to bring this highly experienced and successful team to Evolv," said Trey White, founder and chairman of EvolvHealth. "Team Inspirit has impressed us beyond words. Garrett and Sylvia McGrath and the team members we've met so far are top-notch, and we look forward to building a billion-dollar company together."
"After reviewing many options, Team Inspirit finally found a home with Evolv," said Garrett McGrath. "Our leadership team conducted an exhaustive analysis of more than 100 companies in the industry and, after meeting the management team and examining the Evolv product and compensation plan, our team voted unanimously to partner with Evolv in building the next billion-dollar company in network marketing." Added McGrath, "Industry experts with whom we counseled could not believe a leadership team of this size could freely vote and reach a unanimous decision, but with Evolv we are 100% on board. We all believe Evolv will be the next giant in the industry – it has no competition."
"Evolv is already changing so many lives," said Sylvia McGrath. "The product testimonials are miraculous. Evolv is not a 'me-too' product; it is unlike anything else we've seen in 100 different companies. Both the product and the business are potentially life-changing. Our goal is to help 100 people make over a million dollars per year within three years."
The McGraths bring strong skills in sales, marketing, coaching, and leadership training to Evolv through programs in mentorship, national broadcasts, tools, and events.
ABOUT GARRETT AND SYLVIA MCGRATH
Garrett McGrath has 19 years experience in the network marketing industry as a top earner and has built organizations of 25,000+ people in 14 countries. An internationally sought after speaker and trainer, Mr. McGrath has been the Master Distributor for four companies. Sylvia McGrath has 19 years of marketing experience serving as vice president of marketing for a network marketing company and vice president of sales and marketing for a design firm with Fortune 500 clientele. Their team site is http://TeamInspirit.com.
ABOUT EVOLVHEALTH, LLC
EvolvHealth is a consumer health products company helping people improve their family's physical and financial well-being through science-driven products and entrepreneurial opportunities. Headquartered in Dallas, Texas, its flagship product is Evolv, an enhanced water beverage that has been in development for more than 15 years and shown to have multiple health benefits. The product was released in the fall 2009 and is marketed through a network of independent business owners in North America. For more information visit http://www.evolvhealth.com.
CONTACT INFORMATION:
Garrett and Sylvia McGrath
Office: 214-823-2450
Cell: 214-793-7272
garrettandsylvia@teaminspirit.com
http://TeamInspirit.com
http://www.facebook.com/garrettmcgrath
###