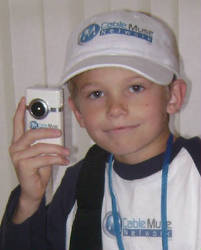 'Cable-Muse Network' feedback and support, particularly for a new writer is unprecedented with any other news outlet ... Kudos to showing you actually care!!! - Michael A. Harris
Phoenix, AZ (PRWEB) February 28, 2010
Cable Muse Network LLC (CMN) is searching for the next New Media Celebrity Spokesperson for video introductions and trailers on CableMuse.com. The deadline for submissions is April 30th.
The New Media Spokesperson Package includes a customized Flip Video Recorder. The new CMN celebrity winner will be featured on CMN, receive a Cable Muse Network Press Pass to cover local events, among other Prizes.
Cable Muse contestant videos are available on CableMuse.com and YouTube. No age limits have been set by CMN, therefore "a child at heart" is qualified for the judges' consideration.
Winning Entries are expected to be announced: May 16th, 2010
Complete contest rules and details are available on Cable Muse Network LLC (Cablemuse.com).
ABOUT Cable Muse Network, LLC:
Cable Muse Network, LLC (CMN), provides Press Pass and full credential services to assist writers and photographers for print and online journalism. Cable Muse supports members behind the scenes with access to events, publishing, editing services including confidential suggestions for improvements if needed." Editor in Chief, Ben Cable added, "Cable Muse shares the passion of writing and photography and it is CMN's job is to help its members reach their dreams; covering sports from the field or behind the curtain of a stage performance."
Nationwide Cable Muse Network (CMN) members range from high school students to the working retired. Cable Muse Network LLC is minority owned and has a strong non-discrimination policy. Cable Muse attributes the success of CableMuse.com to diversity within its communities.
###