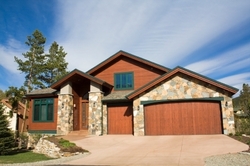 Denver, CO (PRWEB) April 2, 2010
The $8,000 tax credit available to Colorado first time home buyers as part of the Worker, Home ownership and Business Assistance Act of 2009 is set to expire on April 30th – meaning that for any prospective home buyer who hopes to take advantage of this credit for first time buyers (or the $6,500 credit for repeat home buyers), the time to act is now.
One thing which has been hindering many people who'd like to stop renting and purchase their first home is the difficult credit market, which has made it tough even for some of the most qualified would-be home buyers to obtain a mortgage. However, there are alternatives to traditional mortgage lenders which can help consumers to purchase their own home and enjoy the benefits of the Worker, Home ownership and Business Assistance Act's tax credits: FHA loans.
The Federal Housing Administration has been offering an alternative source of home mortgage financing to Americans since 1936; and the program is still going strong today, helping people all over the country purchase homes who would otherwise find it extremely difficult, if not impossible to secure a home loan.
Given the very short window of time before these federal tax credits for home buyers expire, many buyers will find it far easier to work with a Denver Mortgage Lender that specializes in FHA loans than to go it alone. One such company is the Denver-area mortgage firm FHA Pros Online/ Fairway Independent Mortgage Corp., which reports that they've been especially busy helping Colorado home buyers to finally stop renting and get into a home of their own with FHA mortgage loans and receive tax credits to defray the cost of their home purchase. There's not much time left, but industry experts say that there's still enough time to qualify for the credit if buyers act now.
For more information on home mortgages and the $8,000 federal tax credit for first time home buyers, please visit: http://www.fhaprosonline.com
Media Contact:
Fairway Independent Mortgage Corporation
1979 West Littleton Boulevard
Littleton, Colorado 80120
Tel: (303) 789-9933 or toll-free at (866) 342-7767
info(at)fhaprosonline(dot)com
###