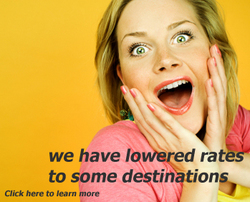 Customers can save as much as 90 percent when using SonarTel for international calling
Katy, TX (PRWEB) March 2, 2010
Sonar Tel, LLC (http://www.sonartel.com), a leading provider of prepaid telephone services, today announced rate reductions for international telephone calls to some of its popular calling destinations such as Angola, Brazil, Kenya, Nigeria, Poland, to name a few. The new rates, effective Mar 2, 2010, offer reductions of up to 50 percent and are also available for customers using the SonarTel Prepaid service from any fixed line or mobile phone within the United States, Canada, the United Kingdom, Netherlands, and Japan.
"SonarTel offers one of the best calling card plans. Customers can save as much as 90 percent when using SonarTel for international calling. There are no hidden charges and no extended contracts. You buy only what you need" said Ese Sanomi, head of business development for Sonar Tel. "Reducing our calling rates is great news for our customers. As part of our commitment to customer satisfaction, we constantly continue to look for opportunities where customers can further save on international calls".
Some of SonarTel's recently reduced rates (costs are per minute in USD) include: Canada (2 cents) a 50 percent reduction; Nigeria Mobile (12.9 cents) a 17 percent reduction; South Africa mobile lines (16 cents) an 11 percent reduction; UK Fixed (2.5 cents) a 34 percent reduction; UK mobile lines (16 cents) an 18 percent reduction; US Fixed and Mobile (2.5 cents) a 22 percent reduction. International calling to many other destinations have also been reduced. To view the complete list of SonarTel's very competitive rates to international destination rates, visit http://www.sonartel.com/new-low-rates.
Unlike traditional calling card plans, prepaid calling cards, international calling cards, and other VOIP services, SonarTel (http://www.sonartel.com) allows customers/subscribers to purchase minutes on an as-needed basis.
Features of the SonarTel prepaid calling service include:

PINLess Dialing: Dial directly from your telephone without a PIN
Speed Dialing: Store frequently dialed numbers and dial with only two clicks
Customers pay only for the time that they talk (one minute billing). In addition, the account will never expire.
No Hidden or Extra Fees: There are no connection fees, no maintenance fees, and no hidden charges while using the SonarTel Prepaid service.
Works with your current carrier. Use your existing fixed or mobile phone. No additional equipment or software downloads are necessary.
Easy Online account management: Customers can visit their account via the internet to review call history, add funds to their account, set up features such as PINLess dialing, etc. Recharges can be done by either credit or debit cards, or by using PayPal.
Security: SonarTel uses state of the art technology (SSL encryption) to protect data and secure transactions. SonarTel does not store credit or debit card information.
There are no contracts, no commitments, and no additional equipment purchase necessary to use the SonarTel Prepaid service.
About SonarTel
SonarTel, LLC is a leading provider of retail prepaid calling services for international long distance telephone calls. SonarTel is focused on delivering reliable, high quality, low-cost telephone services to its users, affiliates, resellers, and developers. Popular calling destinations include Ghana, Nigeria, China, Haiti, India, Philippines, Australia, and the United Kingdom (to name a few). SonarTel is headquartered in Katy, Texas. For more information, visit http://www.SonarTel.com or contact us at (USA) +1 281-220-6656.
###