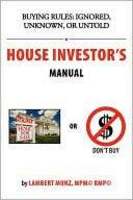 knowing which properties to choose enables success
(PRWEB) March 23, 2010
"As a veteran real estate investor representative and property manager, I see so many new investors come to us and tell us what rent they want for their properties. However, once we tell them the market conditions, they realize the rent they are asking for isn't feasible. They have bought properties that are the last to rent or do not rent. They buy in poor neighborhoods that attract poor tenants. It is obvious they haven't done their homework," Munz says. "I wrote 'House Investor's Manual' to help prevent others from suffering the same mistakes."
Many real estate investors purchase properties in neighborhoods and communities they are unfamiliar with. Investors are also apt to purchase real estate systems from gurus who make the process of real estate investment seem easier than it turns out to be. They use inexperienced agents who are commission-driven and who suggest unrealistic rental rates or houses that attract poor rental prospects. Investors also often don't know what makes a good product for rent or what renters are looking for. "House Investor's Manual" discusses these and other little known and rarely discussed facts about rental investing and home buying.
Among other topics, the book discusses the topic of maintenance. Oftentimes, prospective landlords are so drawn to the idea of earning money though rental properties that they pay little heed to the many updates that may need to be made to a property while it is occupied. "The fact is maintenance is here to stay and must be addressed if you want a successful rental business, but many real estate agents and gurus do not discuss this topic," Munz says.
"House Investor's Manual" also discusses the importance of consulting with a property manager before buying and using a buyer's agent to represent the buyer. Consulting a property manager is an opportunity to counsel with someone who knows the ins and outs of the industry and who can offer sage advice and insight "Most new investors listen to everyone else first, and those in the trenches last. This is a mistake. They need to contact a property manager with real-world experience first," Munz says. In addition to speaking with a property manager, investors need representation from a buyer's agent. Working with a buyer's agent ensures investors are properly represented in a real estate transaction and receive a fair deal for their investment.
Odell Murry, a licensed real estate broker and mortgage banker and President and Founder of MAI Financial Services, Inc., had this to say about "House Investor's Manual":
"Lambert Munz's explanatory guide about the do's and don'ts of buying properties to flip or rent is complete with valuable and useful information for the first time property investor.
"As he notes for the investor, it is imperative to spend wisely, knowing which properties to choose enables success. Concurrently, it is important to buy carefully and intelligently. Munz details the pitfalls to avoid always reminding the buyer to stay focused on the purpose of the venture: to make a profit.
"Munz distinguishes between buying to flip verses buying to rent as each venue comes with its own distinct set of parameters. He likewise offers sound advice to the rental property buyer by outlining strategies from pricing, marketing, and maintenance issues..
"In conclusion Lambert Munz knows and understands this business and willingly shares his expertise. Enjoy his book, follow his wisdom, and reap the rewards befitting a wise and sound investment."
For more information about "House Investor's Manual" and to view chapter one, visit: http://www.1chapterfree.com/chapter.cfm?chapter=708
To view his media room visit: http://www.arbourpm.com and scroll down to media room
To view source of experts visit: http://www.ideamarketers.com/experts/
About Lambert Munz
Lambert Munz, MPM©, RMP© has been licensed with the CA Dept of Real Estate for 44 years, and has spent 27 years as a property manager. Munz is currently president of Arbour Real Estate Management, Inc., past president of National Association of Residential Property Managers Sacramento chapter; Affiliate Member Board of Realtors, Sacramento Chapter; a member of Rental Housing Association, and a member California Apartment Association. DRE License # 00357436.
Contact:
Lambert Munz
Phone: 888-551-5114 x 84
Fax: 916-313-3424
LambertMunz(at)frontier(dot)com
# # #