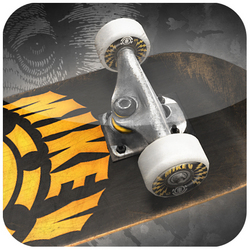 This game was built by skateboarders sharing a passion for the sport and targeting skateboard fans from all around the world. We have been working hard to push the limits of what can be done on the iPhone and to deliver a realistic skateboard experience.
(PRWEB) March 4, 2010
Ratrod Studio Inc., with the collaboration of pro skateboarder Mike Vallely is proud to present this highly anticipated title Mike V: Do or Die. This skateboard video game is now available worldwide for the iPhone and iPod Touch. The game is rated 4+ (for everyone) and can be purchased now on the Apple App Store.
From skateboard legend to rock star and movie actor, Mike Vallely is known as a pioneer and innovator in the skateboarding world. Discovered by Stacy Peralta (Z-Boys) and Lance Mountain in the 80s, Mike became the first east coast street skater to emerge on the scene and became an overnight sensation. Mike is also the vocalist for the band, Revolution Mother, and is the host of his own TV show called DRIVE on FUEL TV. Recognized and idolized by skateboard enthusiasts around the world, Mike has long been featured in the Tony Hawk video game series published by Activision including their latest, RIDE.
Mike V: Do or Die focuses on Mike's path, passions and career. It will feature an overview of his evolution as an individual and his lifelong accomplishments in the history of skateboarding. Players start from the legendary 'Bones Brigade' Powell-Peralta era and can improve their skills while gaining experience to unlock exclusive game content including a selection of over one hundred items to choose from. They can customize their character, board, wheels and car.
The game features stunning next generation 3D graphics using the multi-touch capabilities of the iPhone or iPod Touch to simulate an authentic skateboarding experience by using a cutting edge control system to execute over 40 unique tricks ranging from different styles. The players are even able to select their stance and adjust their trucks to fit their riding style.
"This game was built by skateboarders sharing a passion for the sport and targeting skateboard fans from all around the world. We have been working hard to push the limits of what can be done on the iPhone and to deliver a unique and realistic skateboard experience on this mobile platform which can be often very challenging." Says Pat Toulouse (Executive Producer and President of Ratrod Studio Inc.)
Starting off with the basics then learning some new tricks as you play, tricks range from old school impossible to grinds, slides, grabs, plants and manuals. Mike V: Do or Die includes 7 adrenaline-packed skate locations including a Skate Park, Vert Ramp, Warehouse, Roof Tops, Movie Studio, Ditch and a Mall, the game also includes a Free Ride driving mode featuring a massive open city for players to explore.
The game features top brands and affiliates including Element, Powell-Peralta, Von Zipper, Bones, Active Rideshop, Affliction, Powell, FUEL TV and Ferret Music on top of a diversified sound track that includes multiple songs from Revolution Mother's newest album "Rollin' with tha Mutha". Players are also able to use their own iPhone music library.
Mike V: Do or Die is now available for the iPhone and iPod Touch and can be purchased on the Apple App Store. Ratrod Studio Inc is also planning to bring this exciting new title on the console platforms in the near future.
The game has already been recognized world-wide and nominated at the 2010 International Mobile Gaming Awards for Excellence in Design. This category is for games with an exceptional attention to visual quality.
More details about the game can be found on the official Mike V: Do or Die website: http://www.mikevdoordie.com/
Ratrod Studio Inc.'s team includes some of the industry's top artists and developers currently focusing on the web and mobile platforms with several projects in development. The company has used its extensive experience, talent and expertise to build a solid foundation which will revolutionize the current market and propel them to the top of their field. They anticipate completing over 12 licensed titles while continuing to grow their development capacity during 2010.
---------------------------------------------------------------------------------------------------------------
*About Ratrod Studio Inc.
Ratrod Studio Inc. develops video games for mobile phones, iPhone, handheld devices, game consoles and personal computers. They are experienced game industry experts and licensed developers. Ratrod Studio Inc. is headquartered in Aylmer (Quebec) Canada.
Website: http://www.ratrodstudio.com
*About Mike Vallely
Mike Vallely is a professional skateboarder and musician. Born and raised in Edison, New Jersey, Mike V caught the eye of his own skateboard heroes Lance Mountain and Stacy Peralta while skateboarding in a parking lot outside of a professional skateboard contest in Virginia Beach, Virginia in 1986. Impressed with Mike's skating, Stacy Peralta asked the then sixteen year old Mike V to join the prestigious Powell-Peralta skateboard team making Mike the first east coast based street skater to emerge on the scene and an overnight sensation in the skateboard world. Now some 23 years later, Mike V is a legend. Mike V is sponsored by Element Skateboards and Footwear, Affliction Clothing, Von Zipper Eye Wear and Active Rideshop.
Website: http://www.mikevallely.com
*About Element Skateboards
In 1992 the Element seed was planted. Their goal was simple; to be the best they could be, in the most honest and ethical way possible. Element joined together to elevate what they all truly believe in. Today, they continue to create the art, direction and message on a constant path to bring progress to skateboarding. They are more than a business; they are a family, all on the same journey for the growth with-in everyone, Element and all that surrounds us.
Website: http://www.elementskateboards.com
*About Powell-Peralta and Skate One Corp.
Powell Skateboards was founded in September of 1976 by George Powell, a Stanford trained mechanical engineer. Powell developed the Quicksilver slalom deck and the patented Bones double radial wheels in his home workshop in Pacific Palisades, California. Soon after, he rented a small industrial space in Santa Barbara to manufacture and market these new products.
Stacy Peralta joined Powell to develop a new skateboard team he named The Bones Brigade after Powell's Bones brand wheels. The original Bones Brigade consisted of Ray 'Bones' Rodriguez, Alan 'Ollie' Gelfand, Steve 'CAB' Caballero, Tony 'Bird Man' Hawk, Mike McGill, Jay Smith, and Tim Scroggs. It is safe to say that the Bones Brigade became the most successful skateboard team in the forty year history of the sport. A few of the other well known skaters who got their start with the Brigade are: Rodney Mullen, Per Welinder, Kevin Harris, Tommy Guerrero, Lance Mountain, Chris Senn, Mike Frazier, Colin McKay, Lance Conklin, Gershon Mosley, Bucky Lasek, Danny Way, and Mike Vallely.
At the beginning of the eighties, Powell and Peralta pioneered the use of video to showcase the sport. The ability of skaters to watch videos over and over proved to be a popular way for skaters to learn new tricks. The combination of entertainment and education embodied in videos like The Bones Brigade Video Show, Future Primitive and The Search for Animal Chin stimulated many young people to start skateboarding, adding to the explosive growth of skateboarding in the eighties. Since these first videos, Powell has produced 16 major videos featuring the skating of its Bones Brigade Team.
During the decade of the 1980s Powell-Peralta artwork, products and team enjoyed such popularity that the company rose to the top of the industry. The Bones Brigade introduced skateboarding to millions and millions of people, both young and old, while traveling around the world bringing the doctrine of skating fun to everyone they touched. The original artwork of Court Johnson (VCJ), Powell's first artist, inspired and symbolized the rebellious creativity of skateboarding. Court's classic designs like the Skull and Sword, The Ripper, Oval Dragon, CAB Dragon, Hawk Skull, McGill Snake and Skull and the Banner Dragon have become icons of a new age, the age of skateboarding, and they endure to this day.
At the end of the 1980s, the skateboard industry entered one of its periodic cycles of lower activity and Peralta left to start a new video and film production company. Many of the Bones Brigade team members left Powell-Peralta to start their own companies. Powell continued to develop new cutting edge products and to promote them through its remaining team, but by 1993, Powell was forced to reorganize into Skate One Corp., a new operating company, in order to continue the production of its well known Powell and Bones skateboard brands. This period in the history of the industry was one in which the market was served by over a hundred small marketing companies instead of a few large manufacturing companies.
Skate One Corp. became one of those small companies and started the long climb back to prominence at about 1/8th of its former size. Skate One has focused its energies primarily on the needs of its customers and has developed a number of very successful new products in recent years.
Skate One's primary focus on designing and building the best product for its skateboard customers, and promoting the creative, positive side of the sport of skateboarding, has helped it to regain a position as one of the skateboard industry's most innovative, successful and respected companies.
Websites: http://www.powell-peralta.com and http://www.skateone.com
###