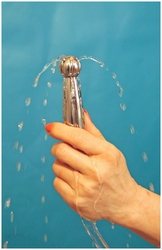 "When I first started using this product I saw results immediately. I have tried all types of feminine products but nothing seemed to work. This product has changed my life…"
Pittsburgh, PA (PRWEB) March 1, 2010
Abbott Research Group, Inc. announces the FDA clearance of WaterWorks, their medical device clinically proven to eliminate vaginal odor. WaterWorks is the only FDA cleared product to safely and effectively eliminate vaginal odor. It is available OTC, so no prescription is required. With four US patents plus patents in Europe, Canada and Australia, this comfortable, safe, natural and effective solution aids in maintaining a healthy pH level and does not alter the vaginal ecosystem, unlike other douches that contain harsh chemicals such as Octoxynol-9.
WaterWorks has also received certification from Health Canada, the federal department that regulates the safety and efficacy of medical devices in Canada. Now available for distribution via Amazon.com, WaterWorks has also obtained the CE Mark for distribution in Europe. In response to consumer demand, WaterWorks is also now available online in the United Kingdom.
WaterWorks has been carefully researched for over six years to guarantee its safety and has been clinically proven efficacious using only low-pressure tap water and medical grade stainless steel. Both medical professionals and consumers alike are praising the positive effects of this innovative vaginal cleansing system. Common user testimonials boast a resounding thank you and reports of helping resolve vaginal odor and discharge issues among women seeking help.
"We are so excited to hear the enthusiastic responses from women around the world who use WaterWorks regularly. It is rewarding to sell a product that makes women feel fresh, clean and confident," says Chun Lim Abbott, CEO of Abbott Research Group, Inc.
WaterWorks' medical grade, lightweight stainless steel nozzle and low-pressure water combination is designed for easy, reusable use in the shower as part of a daily routine. A custom-designed water container is attached to the device via a latex-free hose. The water container and hose are biocompatible with the delicate vaginal tissue, as proven through extensive clinical testing. The water container is filled with approximately 32 ounces of body temperature tap water and placed at eye level so the natural gravity flow of water gently washes the vagina. Although results are typically expected within two weeks, users notice results within one to three days.
Similar to the stainless steel soap bar and tap water used by chefs as the most effective way of eradicating unwanted scents such as garlic, onions and fish from the hands of food preparers, WaterWorks uses a similar science to remove unwanted vaginal odor.
WaterWorks' patented shape also has special channels, which prevent damming up of the water and enhance rapid drainage. The gentle flow of water is directed downward, which prevents bad bacteria from being pushed farther into the vagina. The patented design addresses the concerns doctors have with other over the counter douching products.
"When I get up every morning, I really relish looking at comments from satisfied customers. It is rewarding to see our years of scientific research, new product development and clinical trials come to fruition in helping the women who need this product the most. WaterWorks has truly been life-changing for its users and we want to keep spreading the word about the success of the product so we can continue to make it available to women internationally," says Dominic Abbott, COO of Abbott Research Group, Inc.
In a recent customer poll, the top three reasons why women purchased WaterWorks were that it is all natural and chemical-free, they felt it was an effective solution to their problem and their doctor recommended using WaterWorks. For additional product details regarding WaterWorks, visit http://www.WaterWorksHealth.com
About Abbott Research Group, Inc.:
Abbott Research Group, Inc., doing business as ARG, is headquartered in RIDC Park in O'Hara Township, a suburb of Pittsburgh, PA. In 1999, ARG was created to research and develop personal healthcare products, completely by company-funded medical research. ARG is initially focusing on women's health issues developing intellectual property and publishing research along the way to an FDA cleared medical product.
ARG is a self-funded business venture of Dominic and Chun Lim Abbott. Mr. Abbott has successfully started and run several successful businesses over the past 40 years and possesses an international business acumen that has led the way to unique visionary ideas. ARG is committed to clinical research, leading to development of products of only the highest quality. Awarded the International Standards Operation (ISO) 13485-2003 in October 2007, ARG attained certification for the highest standard of quality and holds its manufacturing facility to the same standards for quality. ARG products and services empower consumers to make educated decisions that will improve their personal healthcare. For more information regarding ARG, visit http://www.AbbottResearchGroup.com
###