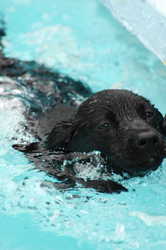 Canine Club Getaway celebrates its second year with a Western theme and a passel of new and exciting activities for dogs and dog lovers alike!
Lake George, NY (PRWEB) March 2, 2010
Canine Club Getaway, the ultimate, all-inclusive resort vacation for dogs and the people who love them, celebrates its second Getaway with a Western theme – and a passel of new and exciting activities for dogs and dog lovers alike! Scheduled this year for June 2-6 in Lake George, NY, Canine Club Getaway's 2010 event moves to a bigger, better venue due to growing demand after a nearly sell-out launch in 2009, according to founders Janice Costa and David and Carole Kralstein. Canine Club Getaway's new location, the Roaring Brook Ranch & Tennis Resort, is home to 300 acres of tail waggin' trails, stunning mountain vistas, horseback riding, country line dancing and an on-site spa.
Of course the dogs remain the central focus of this unique dog retreat, and Canine Club Getaway has once again rounded up a posse of top trainers and behavioral experts, including New York Academy for Dog Trainers owners Frank Bonomo and Dr. Mary Travers, PhD, as well as dog sports instructors, a veterinarian, dog nutrition experts and other dog professionals for a five-day, paw-stomping extravaganza.
"Whether you're hankering for rollicking new adventures or lazy, dog-day afternoons, Canine Club Getaway has something for everyone. We invite dogs and their people to kick up their heels – or paws – and enjoy a Western-style bonanza of dog-friendly activities, games, classes and activities," note Costa and Kralstein.
Why should you take your dog on vacation?
"Humans aren't the only ones feeling the stress from these difficult times," Kralstein says. "Yet our beloved four-legged companions never complain and never stop providing us with their unconditional love and support. So if you feel like you need a vacation, your dog probably needs one just as much!"
"There's a reason pet vacations are all the rage right now," adds Costa. "It's a proven fact that dogs help to relieve stress, lower blood pressure and stave off depression. So if you're looking to de-stress, taking your dog along just makes sense. And Canine Club Getaway offers more than just 'a lick and a promise' – it's about having fun while spending quality time with your dog and meeting like minded dog owners…an experience you and your best friend will cherish forever."
Attendees will have the opportunity to enjoy a host of dog activities, classes and seminars including agility, lure coursing, Frisbee, swimming (and yes, dogs are allowed IN the pool with you!), flyball, rally obedience, hiking, scent detection, doggie skateboarding, prep classes and testing for the Canine Good Citizen and Therapy Dog tests, "barks and crafts," obedience classes and more. Daily seminars will cover the gamut from Emergency Canine First Aid and Dog Training Fusion to Dog Psychology 101 and Pet-Friendly Design. Human guests can also enjoy horseback riding, country line dancing, gourmet dining, nightly "Yappy Hour" and an on-site spa.
For the second year in a row, Costa and Kralstein are partnering with local animal charities and rescue groups to raise funds for these organizations. "For each guest who comes to us referred by an animal charity or rescue group, we will donate $25 to that group, and will make them one of the beneficiaries of our Silent Auction. We'll also distribute their literature to our guests to help raise awareness about their organization," they note.
Attendees who sign up prior to March 15 will receive an Early Bird-Dog Discount.
For more information, or to download an application, visit http://www.canineclubgetaway.com or call 888-K9-CLUBG (888-592-5824).
Animal charities and rescue groups interested in partnering with Canine Club Getaway should contact Janice Costa.
About Canine Club Getaway:
Canine Club Getaway was originally conceived by five Long Island, NY-based dogs in an effort to avoid being kenneled during vacation. With the help of their humans, they established what they've dubbed "any dog's dream vacation," with a host of activities that dogs and humans can enjoy together. From agility, lure coursing, swimming, hiking, flyball and Frisbee to trainer- and veterinarian-hosted seminars, gourmet dining and nightly Yappy Hour, CCG offers the ultimate all-inclusive vacation for dogs and the people who love them. CCG actively supports animal charities and rescue groups.
Contact:
Janice Costa
Canine Club Getaway
888-K9-CLUBG (888-592-5824)
###