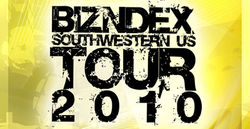 If BizNdex certified marketing consultants can network through traditional avenues and combine that with the power and functionality of social media tools, then they can create an endless stream of local businesses
Phoenix, AZ (PRWEB) March 19, 2010
BizNdex, a local search and social media marketing agency, is now seeking out a leadership team in major cities across the United States. These leadership teams will be responsible for recruiting and training a new sales force of BizNdex certified marketing consultants. These new marketing consultants are trained to help locally owned and operated small businesses reach out to local buyers who are searching for locally available products and services through mobile phones and broadband internet.
"Small local businesses have not had the pain to change their marketing techniques in the past. However, with the recession effecting more people, small businesses are now realizing that few people actually search for local businesses in print anymore. Consumer behavior has simply changed, partially because of technology and partially because of new economic situations. Said Tony Darrick Baker, Vice President of Marketing, BizNdex LLC. "Today's consumers are looking for coupons, peer reviews, and instant and accurate information about locally available products and services through mobile and broadband internet. BizNdex helps businesses get found where consumers are now looking. This includes Google, Yahoo, Bing, and all major local search and mobile media services." said Baker.
Baker is now touring throughout the southwest to meet up with leadership teams and candidates. This cities include Phoenix, Los Angeles, San Diego, Las Vegas, St. George UT, Denver Colorado, and Salina and Wichita Kansas.
To find out the schedule, watch a quick video and RSVP, please visit:
http://bizndexblog.com/tour/
Baker says "We're not only teaching about the importance of Google, Yahoo and Bing, but we're also teaching businesses and BizNdex marketing consultants how to create inbound marketing campaigns through Facebook, Twitter, and a variety of new social media marketing tools." Baker continues. "If BizNdex certified marketing consultants can network through traditional avenues and combine that with the power and functionality of social media tools, then they can create an endless stream of local businesses who are looking to transform their marketing to interactive and internet marketing through local search, mobile media, and social media marketing." said Baker.
While many businesses are laying off, BizNdex is excited about their ability to expand across the United States. "I don't know how it can get much better than this." said James Ashford, CEO of BizNdex LLC. "We're providing locally owned and operated businesses with the opportunity to reach local buyers at a fraction of the cost of traditional advertising. By simply evaluating their existing ad budgets and making slight modifications, we can show in a matter of days that BizNdex delivers a significant return on investment. Likewise, there is a great deal of talent available to us of people who may not be technically savvy, but who have the ability to create relationships with local businesses owners and build a book of business as BizNdex certified marketing consultants. These consultants will continue to get paid for the lifetime of the business relationships they bring to BizNdex, and that's very exciting during tough economic times." said Ashford.
BizNdex has also just released their new LocalNdex iPhone Application. LocalNdex.com is an informative destination hub with over 18 million business listings and profiles nationwide. With the new LocalNdex iPhone application (free), users can rate and review local businesses, attach a photo with their review, and share the contact information through SMS, Facebook and Twitter.
To find out more about the free LocalNdex iPhone application, please visit:
http://itunes.apple.com/us/app/localndex/id339121963
About BizNdex LLC.
BizNdex is a local search and social media marketing agency serving small and medium locally owned and operated businesses throughout the U.S. BizNdex also owns and operates LocalNdex, a comprehensive business directory with details on over 18 million businesses at http://localndex.com
For more information about BizNdex, please visit: http://BizNdexblog.com
###