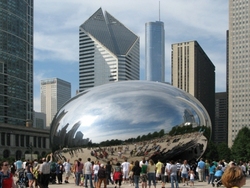 Thank you for hosting this Race. It was a great experience for me and my family. You can use me for any promo you do anytime! Blau Family - Chicago, IL
Chicago, IL (PRWEB) March 2, 2010
Chicagoans are passionate about many things including their politics, pizza and even their winters. Yet, perhaps none of those compare to their civic pride and passion about the city's architecture. Local and visiting enthusiasts annually head out to see the latest building innovations on foot, by boat, via bus and bike.
On Saturday, April 17, 2010, couples, siblings, classmates, co-workers, and spouses will have the opportunity to take on over 20 miles of Chicago's architectural landmarks in an adventure of discovery, athleticism, design and construction skills, and fun activities The first team to cross the finish line will enjoy a trip to anywhere in the contiguous U.S. compliments of the sponsor - Chicago Architecture Today LLC.
The Amazing Architecture Race: Chicago 2010 will be held over a one (1) day, four (4) hour period and take participants into some of the city's most architecturally rich and culturally diverse neighborhoods including Hyde Park, Streeterville, Chinatown, Lincoln Park, River North, Pilsen and more. Contained within these communities are a broad array of design styles juxtaposed aside one another awaiting interaction with race runners. Prominent among styles which may be encountered along the race route are Chicago School, Prairie Style, International Style, Gothic Revival, Art Deco, Post Modern, Neo-Classical and others.
While race teams need not be architecturally-knowledgeable or skilled, a willingness to learn and interact with an urban environment is required. To help them accomplish given tasks, they will be aided by the latest technology such as GPS, digital cameras, and smart phones. The Amazing Architecture Race is a component of the Global Convention & Expo on Architecture: Global Challenges: Architectural Solutions to be held in Chicago April 15-17, 2010. Registration can be made online at http://www.chicagoarchitecturetoday.com
About Chicago Architecture Today LLC
Chicago Architecture Today is an LLC publication serving the architectural interests and concerns of the Chicagoland region and beyond. We are comprised of professionals, former professionals, students and individuals committed to voicing our communities concerns, opinions, achievements and activities as pertaining to Chicagoland's built environment through the promotion of this website and civic involvements. Chicago Architecture Today was conceived in 2005 out of a passion for Chicago-area architecture and the desire to grow a related website as an ongoing expression of that passion. We are committed to providing quality and useful information, insightful commentary and targeted investments in our local communities through sponsorships, scholarships, competitions, internships, and employment opportunities.
###