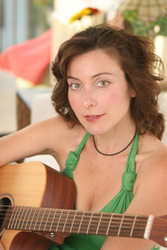 For those seeking great new music this independent artist is truly worth checking out. The album (within) is a must have for those looking for something special.
Hollywood, CA (PRWEB) March 9, 2010
Join singer and "eco-tainer" pioneer Alyssa Anjelica James at the M-Bar in Hollywood on March 21 as she takes her audience on a journey while dishing about marriage, sex, politics and green holistic living. In her one-woman show, James will share humorous insights on these topics and other green issues in between songs off her latest album "within."
Comedy and the environment may be an unusual combination, but James has successfully merged both, using stand-up comedy to create awareness about green issues. "It is how the message is being delivered that strikes a cord with people," she explains. "They're not expecting a short, white woman to make them laugh and preach about the environment at the same time."
A self proclaimed tree hugger, James pulls inspiration from the everyday things people do but don't think about and writes her material while taking walks through the woods and driving in her car. She became passionate about living an eco-friendly and holistic lifestyle after being diagnosed with Crohn's Disease. After 10 years of hospitalizations and medications, James set out to heal herself naturally. "Creating music and comedy really became therapeutic for me," James says.
In addition to her comedy, Alyssa Anjelica James will be performing songs from her new album "within," in which she fuses a range of genres and styles to create a unique and intoxicating sound.
M Bar is located at 1253 Vine Street in Los Angeles. Reservations are required -- please call (323) 856-0036. For more information about singer Alyssa Anjelica James, visit her Web site, http://www.alyssamusic.com.
# # #