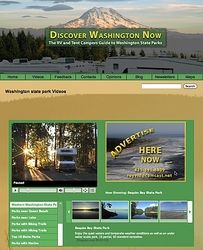 Very welcoming site and user friendly. Videos are visually pleasing. Valuable info for the whole family.
Issaquah, WA (PRWEB) March 17, 2010
Introducing Discover Washington Now, the RV and tent campers guide to Washington State Parks. Three to seven minute videos of each Washington State Park guide campers through beautiful footage to determine which park best meets the needs of their next outdoor adventure. Simple categories list only those parks of interest and help identify less known parks. This site goes far beyond paging through books and wondering what the park will look like, sound like, feel like. With this site campers will know exactly what to expect and and know exactly what to pack for the trip. This site ensures the next family staycation in a Washington State Park is a good fit. Visit DiscoverWashingtonNow.com today and know before you go.
With today's busy lifestyles and endless commitments to calendars, nothing is more relaxing than getting away from it all. Washington's 172 State Parks offer a return to nature. Each state park has a unique offering that meets the needs of the nature seeker in all of us. Before DiscoverWashingtonNow.com, knowing what these parks offered was limited to books and a few black and white pictures. This is exactly what the Jensen family faced when they bought their first family RV. "We never knew what we were going to find" says Eric Jensen, the creative mind and producer of DiscoverWashingtonNow.com. "We've all been hearing about our states cutbacks and how state parks may be closed to save money. We have spectacular parks in Washington state. We all need to do our part to keep them open. This is something I thought I could do to help people understand the value of our park system." Backed with 24 years in the video industry, he came up with an idea. Short, informative videos that take the guessing out of planning a family vacation. A website that allows the user to look, feel and hear what each park includes. Categories within the website bring focus to only the parks with the characteristics the user is looking for. Hiking, biking, riverfront, oceanfront, beach, forest, equestrian and more. Each video is professionally produced to exemplify key characteristics in selected state parks.
Know before you go with this new and exciting idea for the RV and Camping industry in Washington State.
# # #