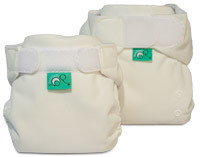 In the words of a recent reviewer on safbaby.com, the Bio-soft liners "… make washing so much easier. I think that if the word got out, (about the flushable liners) we would see an explosion in moms using cloth diapers."
Morristown, NY (PRWEB) March 16, 2010
Many parents are still scared to try cloth diapers. They think using cloth diapers means dealing with big messes, soggy bums and never-ending laundry. Well here's an amazing new option that will change their minds forever – a diaper system designed to make using cloth diapers easy and convenient too.
Bummis and Tots Bots have teamed up to introduce the Easy Fit diaper – affordable, easy to wash – and definitely not messy. The Easy Fit is exactly the cloth diaper solution parents are looking for - an exceptionally luxurious (rayon from bamboo) diaper that wraps baby in softness, absorbs a ton, is easy to use and easy to clean.
And paired with Bummis' flushable Bio-soft liners, the Easy Fit is a diapering method that will overcome the hesitation of even the most timid of parents.
In the words of a recent reviewer on safbaby.com, the Bio-soft liners "… make washing so much easier. I think that if the word got out, (about the flushable liners) we would see an explosion in moms using cloth diapers. For moms who … are afraid of dealing with the messiness of cloth diapers – this makes cloth diapering virtually a no mess deal."
Not only is it easy to use and wash, but the adjustable one-size Easy Fit diaper will fit from 8 to 35 pounds, so a stash of 24 lasts from birth to potty training and represents a savings to parents of approximately $1500 per baby in diapers!
Manufactured in Glasgow, Scotland and already a top seller in the UK, the Easy Fit diaper will be distributed by Bummis through their network of independent retailers across the USA and Canada. Innovative design and intelligent construction makes this diaper unlike anything else available here – and this very special North American version of the Easy Fit promises to make a big splash in the market.
To find out more about Bummis, cloth diapering and Easy Fit Diapers, visit http://www.bummis.com
For media inquiries, please contact Betsy Thomas at 1-888-828-6647, extension 200, or betsy(at)bummis.com
###