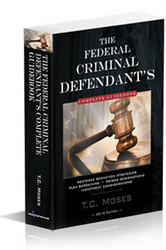 Before this guide went to press, it was reviewed by hundreds of former defendants and inmates. The overwhelming majority concurred with the statement: "If I'd only had a guide like this when I was indicted …"
Atlanta, GA (PRWEB) March 3, 2010
Would you know what to do or to avoid if you were charged or indicted by the federal government? Most people don't. The Federal Criminal Defendant's Complete Guidebook is a new, detailed guide providing a master blueprint for individuals who are preparing to face a federal indictment, retain an attorney, engage in plea bargain negotiations, and experience probable incarceration. This reference guide will aid a defendant in calculating and reducing his sentence, and it will offer important information on how to obtain the best possible facility.
Statistics reflect that approximately 94% of all persons indicted by the federal government will plead guilty. Of the remaining six percent, 75% of those who proceed to trial will be convicted. The math indicates, therefore, a 97% likelihood that federal criminal defendants will face sentencing and incarceration.
These percentages doubtless spark the two most commonly-asked questions from defendants: "How much time am I going to do?" and "Where am I going to do it?" These key concerns are specifically addressed throughout this book. Defendants need to search for the best possible information available to help them navigate the emotional and unknown legal processes they will encounter.
The purpose of this reference guide is to aid those defendants in surviving the indictment process and provide insights into how to minimize various types and periods of incarceration. Moreover, if a defendant enters the unfamiliar world of incarceration, he has entered someone else's game … and it is incumbent upon him to learn the rules and how they will affect his future.The wealth of information in this guidebook will be of greatest benefit to the defendant who is dealing with the federal government regarding his indictment—and if negotiating a plea bargain or convicted by a jury, he will want to obtain the lowest possible sentence at the best possible facility. He should also seek terms and conditions that will facilitate his earliest-possible release.
The strategies and evidence highlighted during hundreds of interviews with inmates serving from 11 months to 326 months (27 years) (to the last man, all having wished they had taken the time to better understand what was happening during their indictment) will give every defendant the best knowledge available to deal with his specific case.
The U.S. Department of Justice is a formidable opponent—defendants should never underestimate its power.
###