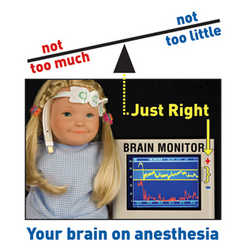 Is the ASA not as smart as a fifth grader?
Newport Beach, CA (PRWEB) March 9, 2010
One year ago, the American Society of Anesthesiologists (ASA) declared itself to be in the relentless pursuit of patient safety.
Yet no answer has been forthcoming to the challenge to defend the six years it took the ASA to declare pulse oximetry a standard of care.
"What part of 'medicate the brain, measure it' does the ASA not understand?" asks prominent, board certified anesthesiologist Barry Friedberg, MD. "Is the ASA not as smart as a fifth grader?"
'Big Pharma' makes its profits by selling more, not less, drugs.
ASA advocacy of widespread brain monitoring could represent losses of up to 30% of gross revenues along with Big Pharma's diminished ability to provide millions of dollars for the ASA's survival.
Why should the average patient be concerned about the flow of Big Pharma dollars to support the ASA?
"The critical need for Big Pharma's dollars might impede the ASA's advocacy of better patient safety," suggests Friedberg.
The ASA publicly postures itself as a patient advocate. However, apathy or avarice appears to be the cause of their failure to champion the routine use of brain monitors.
Brain monitors help anesthesia providers avoid the pernicious, routine practice of anesthesia over medication with the risk of post anesthesia dementia.
"Heart rate and blood pressure are notoriously inaccurate signs of patient brain activity, making the ASA's continued advocacy of them clueless," says Friedberg.
Without the voice of the non-profit Goldilocks Anesthesia Foundation, the American public may never hear about the post-anesthesia dementia risk of the routine practice of anesthesia over medication without a brain monitor.
"Anesthesia guided by the patient's brain response makes 'Goldilocks' anesthesia always just right, not too much or too little," Friedberg asserts.
Disclaimer: Neither Dr. Friedberg nor Goldilocks Anesthesia Foundation receive financial support from brain monitor makers.
Educating Americans that insisting on brain monitoring when 'going under' can avoid post-anesthesia dementia risk from routine anesthesia over medication is the goal of the non-profit Goldilocks Anesthesia Foundation.
The 9 essential questions patients need to ask on their initial surgical consultation can be downloaded free @ http://www.GoldilocksAnesthesiaFoundation.org.
###