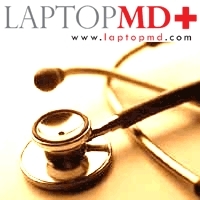 New York, NY (PRWEB) March 1, 2010
Looking for a source on the pros and cons of the technology inside the iPad?
Arthur Zilberman has more than 15 years experience in computer repair and has operated Laptop MD, a laptop computer and iPhone repair center, since 2007.
After teasing and tantalizing the Apple-maniacs for weeks, the iPad, Apple's latest and greatest gadget, was launched with tremendous fanfare.
The tablet PC from Apple arrived, with a splash and a thud. Does the iPad signify a new way of computing? Hardly.
Arthur Zilberman, founder and owner of LaptopMD, a laptop computer and iPhone repair center, says "Apple's breakthrough into tablet computing left me under-whelmed. The iPad strangely resembles another one of Apple's more popular products, and is like a supersized iPhone."
The iPad is twice as big, has half the battery life, and won't fit in your hip pocket like an iPhone. Plus, it doesn't come with a whole host of new features. Why do consumers want or need it?
According to Zilberman, "As an iPhone addict, my biggest complaints about the phone weren't fixed in the iPad. I'm happy to browse the web and cruise at 3G speeds, but when I get to a webpage with Flash, it's like a rush-hour traffic jam on the highway. Nothing moves."
The iPad's failure to support Flash does not dazzle anyone, nor does its limited ability to support multi-tasking. That means no running any applications in the background. No USB ports. No camera. Plain vanilla.
Said Zilberman, "From the company that innovated with the iPod and the iPhone, this is a major disappointment. Most people expected more. Apple does not appear to be listening to its customers. Sorry, but this iPad is something iDon'tWant."
To speak with Arthur Zilberman, please contact Janet Falk at 212-677-5770 or janet@janetlfalk.com
###