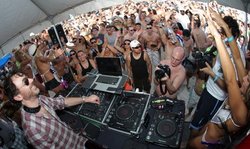 Said Jason Beukema, founder of the Groove Cruise and its parent company, Whet Travel, "I don't think there has ever been that much energy on a cruise ship! I can't remember how many people came up to me and told me it was the best weekend of their lives."
Miami, FL (PRWEB) March 19, 2010
It's official: The January, 2010, Groove Cruise from Miami to Nassau, Bahamas and Great Stirrup Cay featuring Grammy Award-winning DJ/producer, Benny Benassi, has shattered all previous attendance records for Whet Travel Inc. at 840 passengers.
Said Jason Beukema, founder of the Groove Cruise and its parent company, Whet Travel, "I don't think there has ever been that much energy on a cruise ship! I can't remember how many people came up to me and told me it was the best weekend of their lives."
The supporting cast of party DJs aboard the Groove Cruise rounded out a non-stop weekend of beach, pool and theme parties: Boris, Serge Devant, Mind Control (Peter Bailey & Richie Santana), Steve Smooth, Manufactured Superstars, Anthony Attalla, Sydney Blu, Cato K, Kalendr, Louis Dee, Shannon Williams, Greg Bauer and Bam Bam Buddha on the percussion.
In fact, since 2004, the Groove Cruise has consistently attracted top talent, beginning with previous cruises which featured Deadmau5, Sharam (Deep Dish), Robbie Rivera, Bad Boy Bill, DJ Dan, Donald Glaude, Lee Burridge and many others. Media representatives aboard the latest Groove Cruise included the editors of DJ Times Magazine, Bar Business Magazine, the clubs editor of TimeOut NY, and an omnipresent camera crew shooting the pilot for a new reality show to air on a major cable TV network. New swimwear label, Wet Peach Swimwear launched their collection aboard the most recent cruise. Pro sound provided by DAS Audio.
The Groove Cruise hereby announces its first-ever cruise from New York, from August 5 to 9, 2010, to St. John, Canada with Spain's Chus & Ceballos, Tom Stephan (Superchumbo) along with heavyweight NY club kingpins Boris and Jonathan Peters. The cruise following the New York excursion will run January 21 to 24, 2011, from Miami to the Bahamas. Full DJ lineups will be announced shortly.
Now in its sixth year, over 3,500 chic, musically savvy professionals have experienced the Groove Cruise. The Groove Cruise is the only cruise in the world geared for those who love dance music and live by the mantra to, "Work Hard and Play Harder." A leader in the travel market, Whet Travel is affiliated with some of the world's top companies and upholds the highest standards in service. The company sells cruises, vacation packages and trips to all-inclusive resorts around the world with a focus on large affinity, theme and music groups.
Since 2004, the Groove Cruise has been featured in The New York Times, 944 Magazine, DJ Times Magazine, TimeOut NY, The Miami New-Times, and on MTV, CNN, FOX, the BBC (UK), and in numerous other media outlets. A portion of all Groove Cruise sales benefit NextAid, the nonprofit organization dedicated to helping children in Africa who have lost a parent to AIDS. Media, promotional partners and VIP influencers can earn free cruises and perks by joining the affiliate program. For more information, visit http://www.youtube.com/watch?v=L1hfvGY1g5Q, http://www.TheGrooveCruise.com and http://www.WhetTravel.com. All media and sponsorship inquiries, contact Emily Tan Media Relations, (917) 318-3758, EmilyEmilyTan(at)aol(dot)com.
###