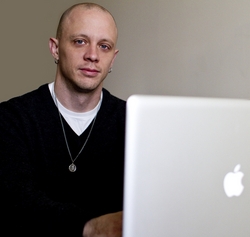 It is possible for a military spouse to PCS without negatively impacting his or her business.
San Angelo, TX (PRWEB) March 2, 2010
How is it possible for military spouses to maintain a career when they have to relocate every few years? At Goodfellow Air Force Base in Texas, one Air Force husband turned this problem to his advantage.
According to Air Force spouse, Christopher Marcel, "It is possible for a military spouse to PCS without negatively impacting his or her business."
How is that possible?
The average military family changes duty stations every three or four years. With each relocation, military spouses find themselves not only uprooted from their homes, families and friends, but also from their careers. After investing effort and time into securing a job, building connections and advancing in the position, they must then pack up and leave it all behind - only to begin the process again. Add in the sparsity of good quality jobs in the current market and the employer stigmas often associated with multiple, short-lived jobs on a resume, and it may seem like maintaining a professional career is an impossible task for military spouses. Many choose to forego their own professions in order to support the military careers of their spouses.
Christopher Marcel found a solution that made it possible to maintain his professional career and support his spouse, all the while, providing a product to benefit the entire Air Force community. He joined the ranks of other military spouses who are taking their businesses virtual to build "portable careers" and created his business, AFStriper.com.
The initial idea for AFStriper.com - an online study tool ideal for Air Force members studying for enlisted promotion testing, preparing for a board, or simply trying to improve knowledge of the professional development guide - was sparked by Christopher's desire to provide his wife with a better option for promotion studying.
"I had the idea for AFStriper.com swirling around in my head for about three years," he said. "I didn't really get serious about turning the idea into a business until I started hearing the same complaints from my wife's friends about the existing PDG study guide."
One of the most important steps in building any successful business - whether based in a traditional setting, in the home, or online - is recognizing a need that is not being met and filling that void. That is exactly what Christopher set out to do with his AFStriper.com website, which officially launched on 1 November 2009. His answer was to provide an inexpensive – only $8 a month - online PDG study tool for Airmen that requires no activation codes and provides free updates every time a new professional development guide is published.
Essential for any military spouse considering starting a home-based or virtual business, are hard work and dedication coupled with what Christopher referred to as "the 3 P's": planning, passion and patience. Fortunately, those are all traits military spouses are well acquainted with.
More military spouses are moving in the direction of pursuing virtual businesses and careers - such as freelancing careers, web design, virtual assistance and online marketing. With this change, they are now able to pack up their careers, clientele and income – along with their belongings - and move on to the next chapter in the Air Force journey.
###