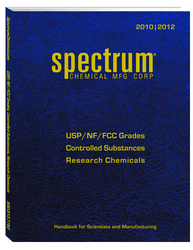 New Brunswick, NJ (PRWEB) March 1, 2010
Spectrum Chemical Mfg. Corp. (http://www.SpectrumChemical.com) announces the release of its latest and most innovative Catalog/Handbook of USP/NF/FCC grade chemicals suitable for manufacturing, testing, and research applications. This easy-to-use Reference tool contains the most comprehensive selection of monograph products and Schedule II-IV controlled substances available in the industry. Over 1,200 USP/NF/FCC grade ingredients and research chemicals are grouped together in a single section, along with abundant technical information and chemical structure details. A separate section tailored to meet the requirements of our analytical laboratory customers contains over 1,000 Reagents, volumetrics, solutions, and indicators for monograph testing.
An extensive Technical Reference section includes valuable information on the functional use of excipients, including product lists and cross references. Active Pharmaceutical Ingredients (API's) are grouped by Therapeutic Category and outlined in tabular format. Additional technical articles on residual solvents testing, food safety, regulatory issues, and chemical outsourcing provide the user with relevant information to navigate through today's increasingly regulated environment. To receive a printed copy of this unique Reference tool, click here. This Catalog/Handbook is distributed by Spectrum Chemicals & Laboratory Products and is also available through VWR International, Fisher Scientific, and other national and international distributors. To receive electronically or to search for products online go to http://www.SpectrumChemical.com.
About Spectrum Chemical Mfg. Corp.
Founded in 1971, Spectrum Chemical Mfg. Corp. manufactures and distributes fine chemicals in laboratory and production quantities. Spectrum's chemical offering consists of over 15,000 active pharmaceutical ingredients (API's), excipients, biochemicals, nutraceuticals, cosmetic ingredients, analytical reagents, and chemical solutions. Spectrum's ISO 9001:2008 certified facilities are FDA registered and operate under current Good Manufacturing Practices (cGMP). To learn more about Spectrum visit http://www.SpectrumChemical.com.
###